Post Classifieds
Giving thanks? Give back.
By Staff Editorial
On November 7, 2012
As the leaves change and the air becomes frigid, we know holiday season is right around the corner. But for some it can be a season filled with despair. The chill and loneliness of the winter affect the less fortunate to a greater degree than those blessed with heat, shelter, family and friends.
Around this time each year homeless shelters, animal shelters and other various charities need as much help as they can get. Even small donations of time and money can go a long ways toward helping others.
As the editorial staff of the Communiqué, we donate our old issues of the newspaper to the Cedar Rapids Animal Shelter and we plan to volunteer bi-weekly to help with the animals.
It doesn't take much; with just a few hours per week or month, you could be comforting rescued animals or making a new friend at a local retirement home. A small donation could feed a family or brighten someone's holiday season.
Volunteering is not hard. The work that is involved within volunteering is rarely difficult.
At the animal shelter the volunteer work includes cleaning the animals cages and bowls, answering phones and helping customers at the front desk. Volunteers may also take photos of the animals, write biographies about them and occasionally give the animals a bath. All of these skills are easily learned and require a small donation of time and effort.
Some volunteer work may require an orientation or other various training. For example, to volunteer for the police department, you need to attend and graduate from the Citizens Police Academy.
Volunteer work at locations such as the police department and at hospitals looks great on college transfer applications.
Certain fields of study encourage or even require students to log volunteer hours, particularly in medical fields. Volunteering also shows a social conscience, an aspect important to many potential employers.
There is a myriad of opportunities throughout the Corridor as well as opportunities through Kirkwood to give back to the community.
On Nov. 27, Student Life will be holding a raffle and donating the proceeds to United Way of East Central Iowa.
Student Life will also be providing "Angel Tag" trees throughout campus. These "Angel Tag" trees provide students with the opportunity to brighten a child's holidays. The gift-giving program, started in the 1990's, has grown to become a successful and rewarding program for college students.
In 2011 the "Angel Tags" provided over 1,500 gifts to underprivileged children.
In Cedar Rapids there are opportunities such as the Linn County Sleep Out for the Homeless. Waypoint Services holds a Wonderland Gift Gala for families in need. Spare change given to the Salvation Army does far more than it would sitting in your purse or pocket.
The holiday season, with its flurry of shopping, parties, food and festivities, can easily overshadow our concern for others. Giving thanks for what we have instead of thinking about what we can do for others is easy but results in no change. Giving back to the community, even if it is only a small contribution, has a profound effect on the greater good.
Get Top Stories Delivered Weekly
More kirkwoodstudentmedia News Articles
Recent kirkwoodstudentmedia News Articles
Discuss This Article
MOST POPULAR KIRKWOODSTUDENTMEDIA
GET TOP STORIES DELIVERED WEEKLY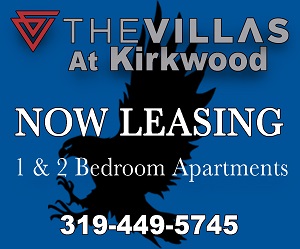 RECENT KIRKWOODSTUDENTMEDIA CLASSIFIEDS
HOUSING

JOBS

FOR SALE

TUTORS
Kirkwood students often admire
Lasik Omaha
doctors that are carving new paths in the field of eye care and transforming the way routine eye procedures are done.