Post Classifieds
Sudanese refugee's journey has just begun
By Bryon Ziemet
On April 3, 2014
Bakhit Bakhit is a Sundanese refugee, currently enrolled at the Kirkwood Iowa City campus. Bryon Zeimet
IOWA CITY-At the age of 63 it seems that Bakhit Bakhit's story is just getting started. Bakhit is a Sudanese refugee who, for the last 6 years, has called Iowa home.
Before coming to Iowa Bakhit lived in Nashville from 2000 - 2008 after leaving Egypt. But Bakhit's story goes even further back. Bakhit received his Bachelor of Arts in English and Russian Languages from Sudan's Khartoum University in 1978. He said he used his Language degree to work for the Ministry of Health, while also teaching high school students at night.
That all changed in 1989 when the Muslim Brotherhood staged a coup over the Sudanese government. A few months later Bakhit said he was fired from his profession for opposing the Muslim Brotherhood's views.
Bakhit described his firing, which he received by letter, as "being what's best for the good of the Sudanese people."
Bakhit said he wasn't the only one this happened to either. He said thousands were dismissed from their jobs after the coup; and that it started from the top with government officials and worked its way down the political ranks focusing on members of the army, police, educators and educational institutions.
Losing his job wasn't the only thing Bakhit said he had to endure during the coup. Bakhit was also imprisoned briefly in Sudan's Kober prison with other classified dissidents.
Like the massive work firings that happened, thousands were also sent to prison and some were even tortured. After being released from prison, it was impossible for Bakhit to find a job in Sudan given its political climate. That's when Bakhit said he decided to leave Sudan behind to start a new life for him and his family.
In 1991 Bakhit was able to get into Libya where he taught English to high school students. He then moved to Egypt where, in 1999, he and his family applied for refugee status.
After being accepted as a refugee Bakhit and his family were sent to Nashville, Tenn., where he was able to find work in mostly manufacturing jobs.
When asked about starting over, Bakhit said he kept his perspective, especially going from an educated professional to an assemblage line worker. He stating that it had more to do with educational policies, since he was educated outside the United States.
In 2008 after his wife, Amal Abubaker, injured her back and required surgery, friends and family suggested moving to Iowa City. With two of the children out of the house and in college, Bakhit said he and his wife and youngest son, Mohamed, moved to Iowa City.
Bakhit said he got a job at Proctor & Gamble where he continues to work and also decided to go back to school taking a few general education classes at Kirkwood Community College. In December Bakhit was accepted into the University of Iowa's Literary Translation program in connection with the University's Writer's Workshop.
Get Top Stories Delivered Weekly
More kirkwoodstudentmedia News Articles
Recent kirkwoodstudentmedia News Articles
Discuss This Article
MOST POPULAR KIRKWOODSTUDENTMEDIA
GET TOP STORIES DELIVERED WEEKLY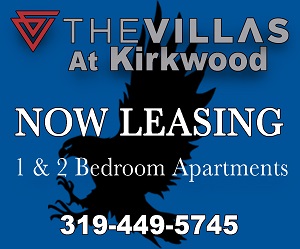 RECENT KIRKWOODSTUDENTMEDIA CLASSIFIEDS
HOUSING

JOBS

FOR SALE

TUTORS
Kirkwood students often admire
Lasik Omaha
doctors that are carving new paths in the field of eye care and transforming the way routine eye procedures are done.