Post Classifieds
Plunging into 'Oblivion'
Movie Review
By Jessica Duling
On April 30, 2013
Named as one of Metacriticsmost highly anticipated movies of 2013, "Oblivion" does not disappoint.
The film is set in the year 2077 after Earth was turned into a post-apocalyptic wasteland by a war between the aliens, known as Scavs, and Humans. Jack Harper (Tom Cruise) and his partner Victoria (Andrea Riseborough) are one of the remaining few technician teams whose job is to find and repair drones that seek and destroy the remaining aliens. The rest of mankind meanwhile has sought refuge on Saturn's moon Titan.
Jack, while on one of his routine repairs, witnesses the crash of a spaceship and decides to investigate. There he finds and rescues a woman named Julia (Olga Kurylenko) who reveals troubling information. Jack begins to question what really happened during the war and his reasons for being back on Earth.
Directed by Joseph Kosinski ("TRON: Legacy"), "Oblivion" grossed over $38 million over the opening weekend. The film co-stars Morgan Freeman ("The Shawshank Redemption") and Nikolaj Coster-Waldau ("Game of Thrones").
The script was almost entirely original and also had a creative and unique plotline. The film transported the viewer to the future with its imaginative scenes and its display of futuristic, if not borderline inventive, technology. This alone makes "Oblivion" worth watching.
Kosinski enhanced the film's futuristic feel by having "Oblivion" scored by the electronic band, M83. Like Kosinski's previous work, "TRON", the use of electronic music greatly dramatizes the feel of every scene and makes the experience more enjoyable.
The film was incredibly entertaining overall with very few dull moments between start and finish. The plot was very unique and had just the right amount of twists. Despite the complex plot, the film managed to hold the viewers' interest without becoming confusing. Having been partly filmed in Iceland, the scenes are bound to be beautiful but the visual style made the movie that much more spectacular.
The film premiered April 19 and runs 126 minutes. "Oblivion" is rated PG-13 for sci-fi related action and violence, brief use of strong language and some nudity.
Get Top Stories Delivered Weekly
More kirkwoodstudentmedia News Articles
Recent kirkwoodstudentmedia News Articles
Discuss This Article
MOST POPULAR KIRKWOODSTUDENTMEDIA
GET TOP STORIES DELIVERED WEEKLY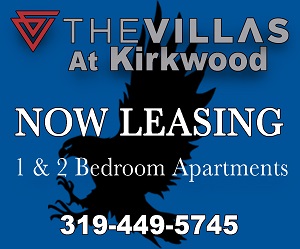 RECENT KIRKWOODSTUDENTMEDIA CLASSIFIEDS
HOUSING

JOBS

FOR SALE

TUTORS
Kirkwood students often admire
Lasik Omaha
doctors that are carving new paths in the field of eye care and transforming the way routine eye procedures are done.