Post Classifieds
Weather no match for baseball team's confidence
By Marcus Schupp
On April 3, 2014
No. 10 Milton Croes stretches to field the ball while the Rochester player runs through the first base bag. Marcus Schupp
The Kirkwood Community College baseball team has had to face a much tougher opponent than it expected to start the season this year - the weather. The abnormal weather led to four game cancelations to start the season.
Despite the weather, Coach Todd Rima said he is very happy with the effort his team is putting forth this spring. The players are a young group and Rima said he estimates he will have seven freshmen on the field on a consistent basis.
He said they have come ready to practice every day and he is proud of how focused each one of them has been. Now all they can do is continue to be patient and wait for better weather.
"It will be nice to actually get out on the dirt and play," Rima said. "I'm sure we have areas to improve on but it is hard to tell right now."
Rima said he is also excited for his team. "I'm anxious for the guys to go out and have success. They have worked hard and have done absolutely everything we have asked of them," Rima said.
Sophomore second baseman and pitcher Ozzie Adams and sophomore outfielder Eric Schenck-Joblinske both said they are willing to do whatever it takes to help this team reach its full potential.
Adams said he feels the team has high expectations. "We expect to win the league (conference). We have a lot of competitors on our team and we expect nothing but the best," he said.
Schenck-Joblinske said he felt similarly about the team's expectations. He also spoke about what it means to him to play at Kirkwood.
He said, "Obviously it is a privilege, there are plenty of people who would love to play (here) at Kirkwood."
Many players said they are eager to get back to a "normal" routine. They are especially excited for the yearly trip to Florida.
Schenck-Joblinske said it is a very unique trip and one he has been looking forward to since last year. The many team members said they have several games scheduled in the next few weeks so everyone is hoping the weather straightens out and the team can begin their regular season.
Get Top Stories Delivered Weekly
More kirkwoodstudentmedia News Articles
Recent kirkwoodstudentmedia News Articles
Discuss This Article
MOST POPULAR KIRKWOODSTUDENTMEDIA
GET TOP STORIES DELIVERED WEEKLY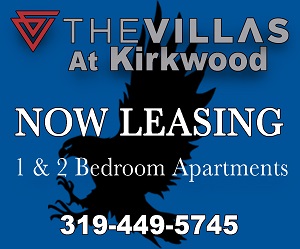 RECENT KIRKWOODSTUDENTMEDIA CLASSIFIEDS
HOUSING

JOBS

FOR SALE

TUTORS
COLLEGE PRESS RELEASES
Kirkwood students often admire
Lasik Omaha
doctors that are carving new paths in the field of eye care and transforming the way routine eye procedures are done.