Post Classifieds
Theatre dedicates itself to dreams
By Ellen McCauley
On September 16, 2013
Liberal Arts student Andrew Burlage paints a mossy stump for the final scene in Dedication and the Stuff of Dreams. Photo By Ellen McCauley
This fall Kirkwood Community College's theatre department has dedicated itself to a new project.
"Dedication or The Stuff of Dreams" is Kirkwood's upcoming fall production, which will allow students to take a turn on the average theatre experience provided here.
With the current remodeling of Ballantyne Auditorium, students may expect a simple production with a simple set: Rick D. Anderson, director of theatre and Shelly Ford, technical director planned otherwise.
"I talked to Shelly Ford," Anderson said. "She thought it would be interesting if we selected a play that would fit the new space."
Due to the Ballantyne renovation, the upcoming production has been moved to the Coralville Center for the Performing Arts. According to Anderson, the Coralville Center has a bit more technology than Kirkwood's theatre department has used in the past.
Anderson said he and Ford saw this as the perfect opportunity for students to learn innovative theatre technologies, such as flyer systems and trap doors.
"It allows our students to use a lot of technology they wouldn't get to use here," Anderson said. "It's a play about theatre."
In "Dedication or The Stuff of Dreams," Lou and Jessie own a small children's theatre in a strip mall but are looking to expand. They meet Annabelle Willard, a seemingly mean spirited senior, and learn that she is interested in selling her theatre but for a high price.
John Miersen, Liberal Arts emphasis, plays Lou, the character trying to convince Annabelle to sell the theatre.
"He's got a theatre and wants to expand it into a larger theatre and that's what this whole production is about," Miersen said. "How these two owners of a children's theatre want to get into this big theatre to have a big space and really have big productions."
In the midst of this, Jessie's daughter Ida comes to visit with hopes of restoring her relationship with her mother and to introduce her boyfriend, Toby, to the family.
Hunter Quint, Liberal Arts emphasis, plays Toby, Ida's boyfriend who tries to enjoy life as it comes.
"Toby is a rocker-well, he's more the sound guy for his rocker girlfriend," Quint said. "The big reason he's in the show is because he is Ida's boyfriend and she wants to introduce her boyfriend to her parents."
This all takes place in the theatre they are trying to buy from Annabelle, played by Liberal Arts emphasis Courtney Lewis. "Dedication or The Stuff of Dreams" will be Lewis' first Kirkwood production.
"I love the challenge of portraying a really mean character," Lewis said. "She seems very mean at first but deep down she's a good person. She just has a dark past."
Students can see "Dedication or The Stuff of Dreams" in the Coralville Center for the Performing Arts on Oct. 10, 11, 12 at 7:30p.m. and Oct. 13 at 2 p.m.
Get Top Stories Delivered Weekly
More kirkwoodstudentmedia News Articles
Recent kirkwoodstudentmedia News Articles
Discuss This Article
MOST POPULAR KIRKWOODSTUDENTMEDIA
GET TOP STORIES DELIVERED WEEKLY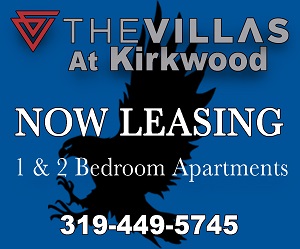 RECENT KIRKWOODSTUDENTMEDIA CLASSIFIEDS
HOUSING

JOBS

FOR SALE

TUTORS
Kirkwood students often admire
Lasik Omaha
doctors that are carving new paths in the field of eye care and transforming the way routine eye procedures are done.