Post Classifieds
'Pitch Perfect' fun and funny
By Sheridan Moore
On November 5, 2012
Listen up "Glee", musical and movie fans. It is time to get pitch slapped by Becca and her group of 'Bellas' in "Pitch Perfect". Becca, played by Oscar nominated actress Anna Kendrick, is attending Barden University. Becca hopes to get by at university until she can move to Los Angeles to pursue her dream of becoming a musician.
Chloe, portrayed by Brittany Snow, interrupts these plans by coercing her into joining the all-girl a cappella group on campus, the Barden Bellas. All Becca wants to do is to get through the year unnoticed and refine her music in peace, but the unexpected intrusion leaves her wanting to help this group struck in the past by their leader.
After becoming part of this group, she is determined to get Aubrey, played by Anna Camp and the leader of the Bellas, to create a new routine, instead of performing the same routine as the previous year. The previous year's a cappella choir ended their routine at finals badly with a nervous note, to put it politely, that landed all over the crowd. The incident disgraced the Bellas and Chloe wants a top notch group of girl singers. However, her new choir is a band of ragtag misfits.
This movie is a musical comedy where viewers are sure to have a good time cheering, laughing and rooting for the underdog. Fat Amy, played by Rebel Wilson, added comedy relief to the movie with her witty sense of humor. Anna Kendrick brings her own spice to the lead role of punky Becca. While some may know her from the "Twilight" films, Anna Kendrick shows her versatility as a leading actress.
I liked the movie as a whole. The musical selections were really well chosen and the plot stays humorous and interesting. I didn't want the movie to end but I foresee the studio producing a sequel to keep the story going. "Glee" lovers and music aficionados will all love this movie alike. With a group of friends, this movie would make a fun and funny break from studying.
Get Top Stories Delivered Weekly
More kirkwoodstudentmedia News Articles
Recent kirkwoodstudentmedia News Articles
Discuss This Article
MOST POPULAR KIRKWOODSTUDENTMEDIA
GET TOP STORIES DELIVERED WEEKLY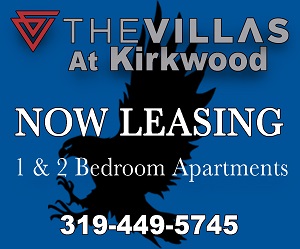 RECENT KIRKWOODSTUDENTMEDIA CLASSIFIEDS
HOUSING

JOBS

FOR SALE

TUTORS
Kirkwood students often admire
Lasik Omaha
doctors that are carving new paths in the field of eye care and transforming the way routine eye procedures are done.