Post Classifieds
Romance Vs. Action
By Jessica Duling
On March 8, 2013
Subway offers a variety of sandwich options and is now located in the Kirkwood plaza. Scott Kintzel
Jessica Duling
Bullets flying, car chases, explosions every five minutes and lets not forget the iconic line "yippee ki yay [expletive]" just as John McClane does something stupid is what is expected when viewing any of the movies from the "Die Hard" franchise. So what is so different about the latest film?
As the fifth film in the series, "A Good Day to Die Hard" centers on John McClane's (Bruce Willis) seemingly troubled son Jack McClane. John flies out to Russia to help his son out of a jam and realizes that Jack is a member of the CIA who is working on halting a nuclear-weapons heist. Their plan gets foiled and are forced to improvise the rest of the mission as they go, guns blazing. The film exhausts this typical father-son dynamic but reveals numerous family issues in the process. The dialogue between John and Jack is mostly them yelling at each other with the addition of a few heartwarming exchanges.
Written by Skip Woods (The A-Team) and directed by John Moore (Max Payne), the action packed, borderline overstuffed, film had a very weak plot. The story was a little hard to follow at first but became clearer toward the end. There was a bit of a plot twist but it's one that anyone could guess about 30 minutes in. There were a few lines that gave the viewer a little laugh but this doesn't redeem the movie much. When the number of explosions outweighs the amount of dialogue, it's a clear sign that this film is not going to be very good.
Before I saw the movie, I had already had an inkling that "A Good Day to Die Hard" was going to be bad and my feeling was dead on.
The movie was fast paced and felt like it was rushing through the plot. Don't get me wrong, I love action movies as much as the next person. I even prefer them before romance but this movie was horrifyingly bad.
"A Good Day to Die Hard" was released in theaters on Feb. 14 and has only grossed about $53 million domestically from ticket sales out of a $93 million estimated budget. The film runs 98 minutes and is rated R.
Dexter White
In the spirit of Valentine's Day, I tried to watch "Safe Haven" with an open mind but by the time the credits rolled I had concluded that it was not my kind of movie.
"Safe Haven" puts together a story line full of spectacular events that conveniently transpire so the main characters are able to fall in love against extraordinary odds-all over the course of what seemed like about two weeks.
During these apparent two weeks, the movie portrays the new lovers at an idyllic day at the beach, getting caught in the rain on an otherwise perfect first date and, of course, falling in love despite facing tremendous adversity.
From director Lasse Hallstrom, "Safe Haven" is his second feature film based on a novel by Nicholas Sparks. The first was "Dear John" in 2010.
What I liked least about this movie was that it spent so much effort to create the extraordinary circumstances surrounding the characters that it forgot to explore and develop the dynamics of their relationship. Katie and Alex, the couple played by Julianne Hough and Josh Duhamel, seemed dull, one-dimensional and superficial.
An example of this is the scene when they eat at the diner. They supposedly have a meaningful conversation but the audience only sees a brief glimpse before skipping to the next scene. It is as if their relationship is built upon only the situations they find themselves in.
Despite the fantastic twists and turns of the plot, I could never enjoy this movie because I couldn't believe the chemistry between the couple was even remotely authentic. Regardless of whether a movie belongs to the action genre or to romance, any movie will always fail to impress me when character development is absent.
It might be because all of the details from the book could not be included in the two-hour movie but "Safe Haven" certainly did not make the cut for me.
"Safe Haven" is Nicholas Sparks' eighth novel to be adapted on the big screen since 1999, beginning with "Message in a Bottle."
Get Top Stories Delivered Weekly
More kirkwoodstudentmedia News Articles
Recent kirkwoodstudentmedia News Articles
Discuss This Article
MOST POPULAR KIRKWOODSTUDENTMEDIA
GET TOP STORIES DELIVERED WEEKLY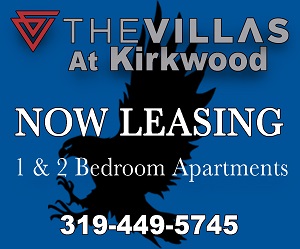 RECENT KIRKWOODSTUDENTMEDIA CLASSIFIEDS
HOUSING

JOBS

FOR SALE

TUTORS
Kirkwood students often admire
Lasik Omaha
doctors that are carving new paths in the field of eye care and transforming the way routine eye procedures are done.