Post Classifieds
Prequel to 'Lord of the Rings' creates heightened reality
By Jessica Duling
On December 10, 2012
With the end of 2012 comes the movie adaptation of the book that started it all, "The Hobbit: An Unexpected Journey".
After recently celebrating the 75th anniversary of the best-selling novel, the book has continuously ruled, found, brought and bound the hearts of devoted fans world-wide. But will the movie live up to the book's reputation?
The prequel to "The Lord of the Rings" tells the story of Bilbo Baggins, played by Martin Freeman (Hitchhikers Guide to the Galaxy), who goes on an adventure with a company of 12 dwarves along with Gandalf, played by Sir Ian McKellen. Their quest is to reclaim the treasure guarded by the dragon Smaug, voiced by Benedict Cumberbatch. Throughout the journey Bilbo gains a sense of maturity and wisdom while stepping out of his familiar home and into treacherous territory.
Percy Jackson, the director of "The Lord of the Rings" trilogy, has shot "The Hobbit" not only in 3-D but also in 48 frames per second (FPS). FPS refers to the frame rate (frequency) at which an imaging device produces different consecutive images. For example, TV shows and movies are typically shot at the standard of 24 FPS. The frame rate is what gives film its "movie magic" quality.
Jackson claims that shooting in 48 FPS will reduce motion blur and give the film a heightened sense of reality. However, at a CinemaCon preview screening, fans disagreed with Jackson's choice, claiming the scenes looked too real.
After much criticism, Jackson stuck by his decision and said in an interview with Anthony Breznican from Entertainment Weekly, that "at first it's unusual because you've never seen a movie like this before. It's literally a new experience, but you know, that doesn't last the entire experience of the film-not by any stretch."
The movie will be showing in 48 FPS in select theaters while other theaters will show the film in the traditional 24. The Hobbit opens on Friday, Dec. 14.
Get Top Stories Delivered Weekly
More kirkwoodstudentmedia News Articles
Recent kirkwoodstudentmedia News Articles
Discuss This Article
MOST POPULAR KIRKWOODSTUDENTMEDIA
GET TOP STORIES DELIVERED WEEKLY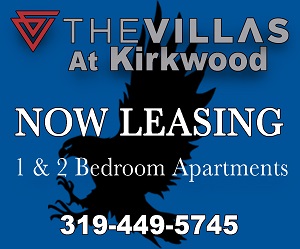 RECENT KIRKWOODSTUDENTMEDIA CLASSIFIEDS
HOUSING

JOBS

FOR SALE

TUTORS
Kirkwood students often admire
Lasik Omaha
doctors that are carving new paths in the field of eye care and transforming the way routine eye procedures are done.