Post Classifieds
Instructors should engage students in learning
By Staff Editorial
On March 8, 2013
Students at Kirkwood Community College generally attend school to seek a quality education. However, this cannot be achieved without instructor excellence.
Obtaining a degree will certainly improve a student's job prospects but there are many other rewards of a quality education that seem to receive less attention. Developing critical thinking skills and social responsibility are part of a comprehensive education.
The attitude with which a student approaches his or her education can make a world of difference. Instructors who actively engage students in class material and discussions open doors to opportunities otherwise unachievable.
When students are actively engaged in class, learning happens intrinsically. This process allows students to learn much more than the class material. In this process, students naturally develop the ability to formulate and defend their own ideas, supported by what they learn in class.
Differing opinions and personalities are encountered by nearly everyone on a day-to-day basis. By learning how to understand and resolve differing views with due cotnsideration and respect, instructors can help students gain experience for taking on the social and professional conflicts that can arise in any field.
Being engaged in learning will also help students later bring about change in current issues facing society.
Too often someone will choose to ignore an issue or leave it in the hands of others simply because he or she does not know how to approach it. The ability to construct well-informed ideas about global issues requires the same process of engagement that students should learn in the classroom.
At Kirkwood students truly have the opportunity to transform themselves and their future with an education.
However, achievements in academia and beyond cannot be realistically met without the assistance of instructors who are willing to engage and guide their students.
Kirkwood has many instructors who are recognized nationally for teaching excellence year after year. Graduates of Kirkwood Community College have gone on to achieve successful careers. Many have also transferred their academic success from Kirkwood to other institutions while continuing their educations.
A dedicated instructor, regardless of the institution, should not merely hand out grades but should require critical thinking of their students. They should encourage a climate of excellence in the classroom.
Students pursuing an education should reach new heights in the development of their individual reasoning.
There is far more to an education than breezing through courses and working toward passing grades. In order achieve a comprehensive education, students must rely on instructors to promote critical thinking. As a result, instructors' foremost concern should be providing opportunities for their students to become engaged.
Everyone who passes through the halls of Kirkwood should realize they have an opportunity to obtain much more than career qualifications. If students and faculty put forth their best efforts, they will get the most out of their educational experience.
Get Top Stories Delivered Weekly
More kirkwoodstudentmedia News Articles
Recent kirkwoodstudentmedia News Articles
Discuss This Article
MOST POPULAR KIRKWOODSTUDENTMEDIA
GET TOP STORIES DELIVERED WEEKLY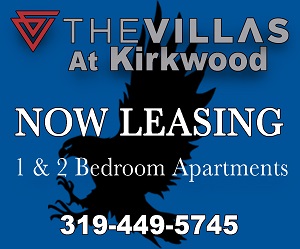 RECENT KIRKWOODSTUDENTMEDIA CLASSIFIEDS
HOUSING

JOBS

FOR SALE

TUTORS
Kirkwood students often admire
Lasik Omaha
doctors that are carving new paths in the field of eye care and transforming the way routine eye procedures are done.