Post Classifieds
Bassist Ian Draves hones craft
By Jessica Duling
On March 8, 2013
Members of the Kirkwood Concert Chorale rehearse Part One of Handel's Messiah in Ballantyne Auditorium alongside a small orchestra of doctoral candidates in music from University of Iowa. The concert will feature student and instructor soloists, as well as large-scale chorale movements. Photo By Dallas Wilcox
"Since I'm a bass player, you know bass players can't live without the funk music. You gotta like the funk and the R&B," said Ian Draves, Liberal Arts emphasis, with a laugh while listing off the genres he enjoys to play.
For some, a love of music starts at a young age like it did for Draves. "When I was a young kid I was always surrounded by music. It always interested me," said Draves, smiling.
"I got my first bass guitar when I was in 5th grade but I didn't really seriously start playing until middle school when I joined orchestra and [that] was when things kind of progressed," said Draves. He said he had a few private lessons while growing up but is mostly self-taught. Draves was able to take lessons while at Washington High School and further his skill with bass guitar.
His passion for guitar was inspired by from his father. Draves said, "He was a guitar player when I was younger and he also owned a record store when I was a child." Being surrounded by music helped Draves pursue his curiosity. "I always kind of wanted to fit in with him I guess," said Draves, reminiscing.
Bass guitar is not Draves' only talent. "Bass is my primary instrument but I can play a little piano. I can also play guitar decently well and I've actually been working on drumming a lot lately." All those instruments require practice, especially for a music enthusiast. "Normally I get maybe about an hour a day [of practice], three days a week. It's kind of slacking a little bit but I play a lot of stuff [at Kirkwood] so I keep myself busy," said Draves.
Throughout Draves' schooling he has had numerous opportunities with music, including playing in Chicago and Kansas City as part of different jazz festivals. Some of these opportunities happened while he attended Washington High School. "My orchestra got nominated to play at Carnegie Hall in New York, so I got that when I was a freshman," he said. When he was a sophomore Draves was able to play alongside his orchestra at the Iowa Bandmasters Association. The association is a large conference including a range of different music instructors in Iowa. "I've played at a lot of different places over the years," said Draves.
Draves said he plans to move to Chicago or New York. "The goal of everyone who plays music is to tour the world and have everyone scream [their] name, but my goal is to be a studio musician," said Draves.
Get Top Stories Delivered Weekly
More kirkwoodstudentmedia News Articles
Recent kirkwoodstudentmedia News Articles
Discuss This Article
MOST POPULAR KIRKWOODSTUDENTMEDIA
GET TOP STORIES DELIVERED WEEKLY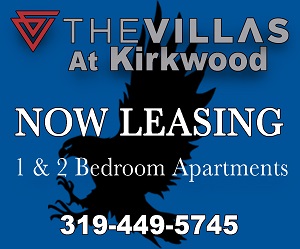 RECENT KIRKWOODSTUDENTMEDIA CLASSIFIEDS
HOUSING

JOBS

FOR SALE

TUTORS
Kirkwood students often admire
Lasik Omaha
doctors that are carving new paths in the field of eye care and transforming the way routine eye procedures are done.