Post Classifieds
Windows 8? Windows frustrates.
By Richard Auchus
On March 8, 2013
I was always a Windows guy. The operating system was basic, simple, and easy to use, or was, until I bought my new laptop. Two hours in, I was screaming at the top of my lungs at the operating system and on the verge of throwing the expensive device out the window.
What exactly is so different in Windows 8? Most of how the new system runs is much like Windows 7 but the subtle changes have caused problems.
For example, the new start menu is not user-friendly. On this screen, users use their touchpad or mouse to move left to right, browsing a collection of preloaded apps known as "tiles" that are displayed in little live boxes. From here users navigate to the desktop and programs. While it may all look cool to begin with, the difficulty of practical use outweighs the aesthetic design.
For instance, shutting down the computer no longer has a quick, obvious solution. As users scroll across the start menu, there are plenty of apps, most of which are completely useless. As they scroll, users will eventually notice that the start menu does not even have a button to press to turn the computer off.
To turn off the computer, users need to swipe the mouse over to a different corner where they will find another menu, then click a button that goes into yet another menu. That menu finally lets users shut down the computer. This roundabout method of taking several steps to do a single task is prevalent throughout the new operating system.
The apps are also far from user-friendly. These annoying pests are something completely new and run in a completely different fashion than typical programs.
Opening a file online to view as a picture or as a .pdf document is now a frustrating experience. Where before I would be directed to another window, in Windows 8 I was directed into a completely different interface. This interface can't be moved around as it takes up the entire screen. Users can only switch between the normal and app screens.
These app screens also don't have a basic close button. To exit the program users have to go to the top of the screen, click and hold, and drag it down.
It may seem like I'm nit picking at minor annoyances but these small problems combine to one big nuisance. Windows 8 is nothing more than a mess of pathetic gimmicks and cheesy looks.
Yes, users eventually get used to it or may find ways to even avoid using the new interface altogether. In fact, companies are even offering downgrades to new Windows 8 users.
When newer, more advanced technology requires the user to tackle some sort of learning curve, there is usually a good payoff that comes with the newly acquired skill set. This is not the case with Windows 8 - I spent hours in rage only to go back to doing things the way I did them before. It is simply not worth the cost.
Get Top Stories Delivered Weekly
More kirkwoodstudentmedia News Articles
Recent kirkwoodstudentmedia News Articles
Discuss This Article
MOST POPULAR KIRKWOODSTUDENTMEDIA
GET TOP STORIES DELIVERED WEEKLY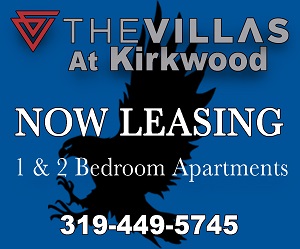 RECENT KIRKWOODSTUDENTMEDIA CLASSIFIEDS
HOUSING

JOBS

FOR SALE

TUTORS
Kirkwood students often admire
Lasik Omaha
doctors that are carving new paths in the field of eye care and transforming the way routine eye procedures are done.