Post Classifieds
The magic of theatre according to Clark Skaggs
By Drake Klemme
On May 5, 2014
Clark Skaggs, communications instructor/. Ellen McCauley
"It's just magic." Those are the words Associate Professor of Communications Clark Skaggs used when describing how it felt to put on a professional theatrical production.
Skaggs has been a professor at Kirkwood Community College for 10 years and teaches Fundamentals of Oral Communication, Public Speaking and Encounters in Humanities.
In addition to being a faculty member at Kirkwood, Skaggs said he is a professional actor, has performed in theatrical productions since he was 5 years old and has now been in over 30 productions.
"Initially it was just teachers who pushed me in that direction because they recognized that I had a singing ability or that I was a little comedic," said Skaggs. "But as I did it, I kind of always found being in front of audiences rewarding."
Skaggs has performed in shows in seven different states, including New York. Since he is now a fulltime faculty member, he said he only performs with local theaters such as Riverside, The Old Creamery, Theater Cedar Rapids and the Iowa Theater Company.
"I've done musicals, dramas and comedies. I've done the whole spectrum," said Skaggs. He added some of his favorite roles he has performed are Jeff from "Title of Show", Jerry from "The Full Monty" and Finch in "How to Succeed in Business Without Really Trying".
The most recent performance that Skaggs was in was a dinner theater murder-mystery performance at The Ox Yoke called "Dying to Win".
"It's about an awards show and a murder-mystery-comedy kind of all rolled into one," said Skaggs. In that performance, Skaggs's character's name was Lance Young. "He was the 'male stud' of the nominees with a gigantic ego," Skaggs explained.
According to Skaggs, he usually takes his theatrical work during the summer in order to keep teaching his first priority.
Skaggs said he has learned to incorporate things he's learned on stage into his teaching style and vise-versa.
"I think I'm pretty theatrical with my presentations in my classes. A lot of times I attempt to use humor. Occasionally I'll even connect certain lectures to theater," he said. Skaggs also stated how teaching has helped him become more poised as an actor.
He added, "As a teacher you're always thinking on your toes. So if you're in a play in front of a huge audience and somebody forgets a line you have to think through the ways to get through that. You keep going and you keep talking. I think teaching really has helped with that."
Along with the professional performances on stage, Skaggs has also performed in children's shows within the past three years.
"I've been hired to be in 'How I Became a Pirate' which is one of the children's shows being put on this summer at The Old Creamery. I enjoy performing for those audiences as much, if not more, than anybody else. You feel like you're influencing younger generations to get involved in theater and they get so excited about it," Skaggs said.
Get Top Stories Delivered Weekly
More kirkwoodstudentmedia News Articles
Recent kirkwoodstudentmedia News Articles
Discuss This Article
MOST POPULAR KIRKWOODSTUDENTMEDIA
GET TOP STORIES DELIVERED WEEKLY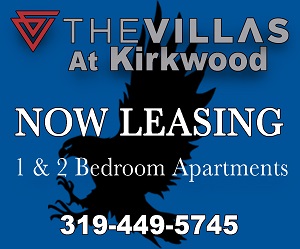 RECENT KIRKWOODSTUDENTMEDIA CLASSIFIEDS
HOUSING

JOBS

FOR SALE

TUTORS
Kirkwood students often admire
Lasik Omaha
doctors that are carving new paths in the field of eye care and transforming the way routine eye procedures are done.