Post Classifieds
Eagles are 11-9 in the conference
Eagles win one game of their double-header against NIACC
By Chelsea Harman
On May 5, 2014
Angel Merced, catcher, connects with the ball hitting an RBI single in the fifth inning. Chelsea Harman
The Eagles doubleheader on April 26 against North Iowa Area Community College (NIACC) almost turned into a tripleheader when the first game went 14 innings.
The Eagles entered Saturday's games with a record of 10-8 against the NIACC Trojans with a record of 7-15.
The first pitching match-up of the doubleheader was Kirkwood's Will Ross vs. NIACC's Nick Veale.
Although NIACC scored first against Ross, with two runs in the third inning, Kirkwood rallied back in the bottom of the fifth. The Eagles scored a run off of an RBI single by shortstop Sulliam Rios.
With a close game in the bottom of the eighth, The Eagles were down 2-1 until catcher Angel Merced singled, scoring Rios from second base.
Ross held on despite a shaky third inning. He left the game after eight innings of play striking out nine, with two walks, nine hits and two earned runs.
Randy Perez came in to the game relieving Ross in the ninth inning and pitched a solid six innings with one hit, one walk and 10 strikeouts.
It was the bottom of the 14th when Eagles catcher Merced was up to bat and hit the ball out of the strike zone for the game-winning single to left field. Merced hit in Zach Patterson from second base making the final score 3-2.
Perez got the win, making his record 2-0 on the season.
The second game of the doubleheader got underway at 3:30 p.m. after the long 14 inning game that preceded it.
Alexis Bauzo took the mound for the Eagles against the Trojans Quinn Ahren. The Eagles started off strong scoring two runs in the first inning but didn't keep it up for the duration of the game.
NIACC scored five runs in the fifth off of Bauzo who was taken out of the game and relieved by Shane Kemp.
Although the Eagles came back and scored a run in the bottom of the fifth, they were unable to produce runs and lost to the Trojans by a score of 7-3.
The Eagles are now 11-9 in conference play this season and will compete Friday at Southeastern Community College. The Eagles will then host Southeastern Community College on Saturday.
Get Top Stories Delivered Weekly
More kirkwoodstudentmedia News Articles
Recent kirkwoodstudentmedia News Articles
Discuss This Article
MOST POPULAR KIRKWOODSTUDENTMEDIA
GET TOP STORIES DELIVERED WEEKLY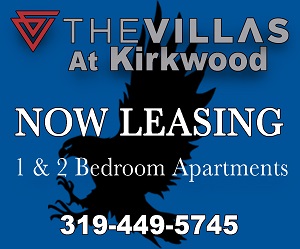 RECENT KIRKWOODSTUDENTMEDIA CLASSIFIEDS
HOUSING

JOBS

FOR SALE

TUTORS
Kirkwood students often admire
Lasik Omaha
doctors that are carving new paths in the field of eye care and transforming the way routine eye procedures are done.