Post Classifieds
Show real thanks for holiday
By Katy Karas
On November 21, 2013
As the holiday season approaches, Americans are preparing for the next big holiday: Thanksgiving. While the holiday celebrates the first time Pilgrims feasted with Native Americans, not everyone takes the time to realize what it's all about.
What is commonly known as the First Thanksgiving happened after the Pilgrim's first harvest in the New World.
In actuality, Thanksgiving wasn't an official holiday until the Civil War when Abraham Lincoln proclaimed a national day of "Thanksgiving and praise to our beneficent Father who dwelleth in the Heavens." He named it a federal holiday because even in the midst of a Civil War, America grew in population and in size, continued to have plentiful harvests and yielded abundant amounts of iron and coal.
The continued successes of Americans has resulted in a myriad of people publicly showing their thanks. People post on Facebook sharing their 30 days of thankfulness or tweet with the hashtag #thankful.
By sharing their thanks, people are using Thanksgiving as a time to show appreciation and acknowledge those who have helped them in the past. It is easy to simply state these things but the holiday can be better celebrated by more meaningful interactions.
Taking a few moments out of the day to call an old friend just to show appreciation for their support can mean far more than a Facebook post. Other options include writing a note to a teacher for any extra assistance as finals loom or bringing treats to surprise co-workers, friends or classmates as a thanks for their presence.
However, it is important to remember that gratitude extends beyond people. Often times, Americans are blessed with a surplus of toys, books, clothes and food. Giving thanks by donating unused food or items to the less fortunate can be rewarding and have a real impact on the world. There are needy around the globe and even next door.
The recent typhoon in the Philippines has left thousands dead and more without homes or shelter. A terrorist attack in Lebanon killed dozens. And practically next door, hundreds of homes in Washington, IL lay in rubble on the eve of Thanksgiving.
By donating time, money or aid to those who have lost everything, we can find ourselves grateful for making the world a better place instead of focusing on selfish success. Sharing with those who have suffered heavy losses will give both the giver and receiver a more fulfilling, hopeful Thanksgiving.
Thanksgiving need not stop when the turkey's gone and the stuffing is cold. Every day is an opportunity to share thanks and gratitude and make the world a better place.
Get Top Stories Delivered Weekly
More kirkwoodstudentmedia News Articles
Recent kirkwoodstudentmedia News Articles
Discuss This Article
MOST POPULAR KIRKWOODSTUDENTMEDIA
GET TOP STORIES DELIVERED WEEKLY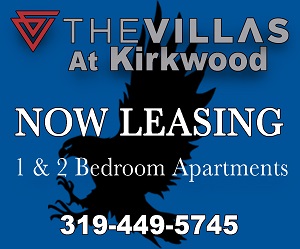 RECENT KIRKWOODSTUDENTMEDIA CLASSIFIEDS
HOUSING

JOBS

FOR SALE

TUTORS
Kirkwood students often admire
Lasik Omaha
doctors that are carving new paths in the field of eye care and transforming the way routine eye procedures are done.