Post Classifieds
Share traditions between family, friends
By Leah Coffman
On November 21, 2013
Traditions are the backbone of major holidays and Thanksgiving is no exception. However while the turkey, stuffing and green bean casserole may seem universal, every family celebrates in its own unique way.
Some may celebrate the holiday by watching football or classic movies such as "It's a Wonderful Life." Other families may spend the day talking and gossiping over the cooking and clean up, while board games may be the evening's agenda with another.
Even the main dish can vary from family to family, with deep fat fried turkey seeming just as traditional as a turkey that has been smoked for hours. Essentially, each family looks at the day with its own eyes and personality, giving it meaning that applies to each. These differences should be embraced and celebrated around the country.
As students grow, they can have the opportunity to experience the traditions of their friends and loved ones and expand their own ideas about what the holiday can mean.
By sharing and learning about the traditions that define both them and their families, students can experience new traditions to add to their ideas. By adding new traditions, students can define themselves as they grow from children into adults with their own families to celebrate with.
Perhaps the best way to start sharing and making a personal stamp on the holiday is to add another day of celebration to it.
Many students return home to their families for Thanksgiving, separating from the family of friends they have made at school. However, students can have a small scale Thanksgiving dinner with their friends before leaving campus.
While cooking a 20 lb. turkey may seem an intimidating prospect, a turkey for a few friends need not be an entire bird. Also, allowing every friend to bring a dish potluck-style allows for variety in style and tradition.
One student's family may have an amazing green bean casserole or sweet potato recipe, while another may have a stuffing recipe that the others have never experienced. Even misadventures in trying to cook a Thanksgiving dinner with friends can make for valuable memories that will last a lifetime.
Even the after dinner traditions of watching sports or playing games or even collapsing in a post-turkey nap can be just as easily enjoyed with friends as with a parade of relatives. The time spent with friends sharing and making traditions is a way to grow.
Creating memories and new traditions with friends can give students a personal stamp on a holiday that is so often tied up in family traditions, acknowledging the old while creating the new.
Get Top Stories Delivered Weekly
More kirkwoodstudentmedia News Articles
Recent kirkwoodstudentmedia News Articles
Discuss This Article
MOST POPULAR KIRKWOODSTUDENTMEDIA
GET TOP STORIES DELIVERED WEEKLY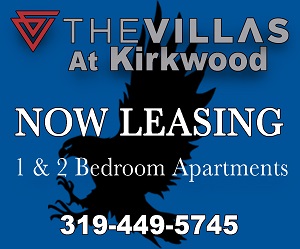 RECENT KIRKWOODSTUDENTMEDIA CLASSIFIEDS
HOUSING

JOBS

FOR SALE

TUTORS
Kirkwood students often admire
Lasik Omaha
doctors that are carving new paths in the field of eye care and transforming the way routine eye procedures are done.