Post Classifieds
Varied lineup kicks off
Gleeful for fall TV
By Leah Coffman
On September 14, 2012
Margaret Duffy serves students who come to the Information Booth to purchase basic school supplies, aspirin, stamps and the newspaper. She is also available to answer questions about the locations of various campus departments. Keith Schoon
As summer comes to a close, the fall TV lineup brings the entertainment focus to the new and returning shows for the next year.
NBC once again brings a strong mix of comedies and dramas with returning favorites such as "Parks and Recreation", "30 Rock", "The Office" and cult favorite "Community." However, the big headliner for NBC is "The New Normal", a new Tuesday night comedy that premiered on Sept. 11, which has been publicly boycotted by the group One Million Moms.
Other new shows for NBC include "Revolution", a Monday night drama set in a post-apocalyptic world, "Chicago Fire", "Animal Practice" and "Guys With Kids."
ABC also brings a strong returning lineup, with a focus on the supernatural and strong hits such as "Revenge", "Once Upon A Time" and award-winning "Modern Family". ABC adds to that with "666 Park Avenue", airing on Sunday nights, "Last Resort" and "Nashville". The network also has the perennial favorite "Dancing With The Stars" returning.
Following a recent trend toward modern interpretations of classics, CBS is adding "Elementary", a modern interpretation of the Sherlock Holmes stories. While the premise is similar to the BBC production "Sherlock", this modern twist has cast Lucy Liu in the traditionally male role of Watson against Jonny Lee Miller's Sherlock. The network has also added "Vegas", a character drama set in 1960s Las Vegas and based on the life of Sheriff Ralph Lamb. Returning shows include "How I Met Your Mother", "Two and a Half Men" and "Big Bang Theory."
Fox is adding several new shows, with comedies "The Mindy Project", starring Mindy Kaling of "The Office" fame and "Ben and Kate" from the creators of "Will & Grace". However, they are still bringing back several high-rated and long-running favorites, such as "The Simpsons" and "Family Guy", as well as "The X-Factor" and "Bones".
However, Jenn Howard, Accounting emphasis, said she was most excited for the return of "Glee", the network's pop culture hit.
Also on her list of must-see fall shows was HBO's returning hit "True Blood". The channel also continues its tradition of innovative original programming with the return of the award-winning "Boardwalk Empire" and "Treme".
Get Top Stories Delivered Weekly
More kirkwoodstudentmedia News Articles
Recent kirkwoodstudentmedia News Articles
Discuss This Article
MOST POPULAR KIRKWOODSTUDENTMEDIA
GET TOP STORIES DELIVERED WEEKLY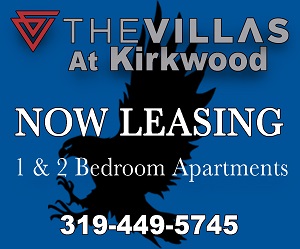 RECENT KIRKWOODSTUDENTMEDIA CLASSIFIEDS
HOUSING

JOBS

FOR SALE

TUTORS
Kirkwood students often admire
Lasik Omaha
doctors that are carving new paths in the field of eye care and transforming the way routine eye procedures are done.