Post Classifieds
Alumnus flower shop is a growing business
By Ellen McCauley
On November 21, 2013
Floral Career's graduate Samantha Ritchie is growing something fresh in her hometown of Savana, Il.
Ritchie graduated from the Floral Career's program at Kirkwood Community College in August this year. As she was working toward her certificate, Ritchie was also making arrangements toward buying a business back in Savana.
"My previous boss, Barb Tracey was ready to retire," Ritchie said. "While I was still in school in Cedar Rapids, I was setting up meetings and talking on the phone with bankers and with Barb to try to make things work."
Ritchie said she finalized the loans and purchased River Valley Designs when she moved home to Savana. She currently employs three part-time workers. This is also River Valley Design's twentieth anniversary.
"River Valley Design is right on Main Street so it's the perfect location for a flower shop," Ritchie said. "It's just been a very reputable business. Barb has really made a name for herself and everyone kind of knows what the business is, where it's at and what it's about."
While attending the Floral Career's program at Kirkwood, Ritchie said she learned many things to help her designs. While working in the field, she stated she has found a variety of ways to apply the things she learned in school.
"Sometimes in design class I would think 'what am I going to use this for? Nobody does this anymore' and I ended up using it just last week." Ritchie said. "I think the experience of it, especially the internship that I had, helped with experience and confidence."
Ritchie stated her business is more of a service rather than just selling an item. She expressed the difficulties of balancing time management, budgeting and stress as a business owner. Tracey plays a big role as Ritchie's mentor as she continues to experience owning a business.
"Barb still works part time for me. I'm continuously learning from her," Ritchie said. "I couldn't do it if Barb wasn't here to keep helping me out because there's so much to learn still."
Although Ritchie said she has encountered some struggles in becoming a business owner, she said she often looks back on her experience at Kirkwood for help.
"I ended up learning a lot from Kirkwood. Even two hours away, I can still call Lora (Dodd-Brosseau) or my other instructors and ask 'how do I handle this?'" Ritchie said.
Ritchie also advised students to follow their passion.
"Just make sure you go in there with a passion for it, that you really want to learn it and take it all in," Ritchie said. "Just make sure you are really sure it's what you want to do because so many people are going to college just to go to college. Make sure you have a passion for it and it's what you really want to do."
Get Top Stories Delivered Weekly
More kirkwoodstudentmedia News Articles
Recent kirkwoodstudentmedia News Articles
Discuss This Article
MOST POPULAR KIRKWOODSTUDENTMEDIA
GET TOP STORIES DELIVERED WEEKLY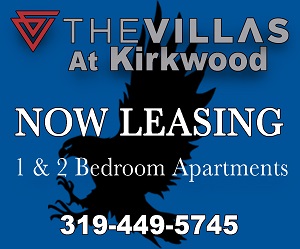 RECENT KIRKWOODSTUDENTMEDIA CLASSIFIEDS
HOUSING

JOBS

FOR SALE

TUTORS
Kirkwood students often admire
Lasik Omaha
doctors that are carving new paths in the field of eye care and transforming the way routine eye procedures are done.