Post Classifieds
Plasma: Helping others and yourself
Letter to the editor
By Garrett Serbousek
On October 16, 2013
Donating plasma is an important aspect of modern day medical care. There are numerous benefits to donating plasma at a service such as Biolife in Cedar Rapids. Donors are compensated financially for potentially saving lives and helping the community.
As college students many of us struggle financially. However, every time you donate plasma at a Biolife Plasma center you are paid $20 for each donation. You can donate up to two times in a seven-day period so you can receive a total amount of $40 per week.
There are various medical reasons as to why donating plasma is vital. Plasma makes up about 55 percent of the average person's blood volume and plasma is replaced in the body much quicker than whole blood is. Whole blood can only be donated once every eight weeks. Sixteen plasma donations can be made in the same time period.
Plasma also cannot be manufactured and is essential for the treatment of certain bleeding disorders, immune deficiencies and other rare genetic diseases. Because plasma is mostly water and proteins, Biolife collects the plasma and develops it into life-saving plasma protein therapeutic treatments.
Donating plasma not only provides financial incentives but also helps improve the community. Donors get the satisfaction of improving the community by helping others.
There are many factors to be considered eligible to donate but I encourage everyone to visit the Biolife Plasma website at www.biolifeplasma.com and set up an appointment to determine eligibility. There are two locations in Cedar Rapids on Edgewood and Rockwell. Not everyone will be able to donate but it's nice to try. We should all work together to help the community, even if it's something as small as donating plasma.
Get Top Stories Delivered Weekly
More kirkwoodstudentmedia News Articles
Recent kirkwoodstudentmedia News Articles
Discuss This Article
MOST POPULAR KIRKWOODSTUDENTMEDIA
GET TOP STORIES DELIVERED WEEKLY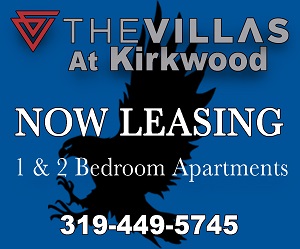 RECENT KIRKWOODSTUDENTMEDIA CLASSIFIEDS
HOUSING

JOBS

FOR SALE

TUTORS
Kirkwood students often admire
Lasik Omaha
doctors that are carving new paths in the field of eye care and transforming the way routine eye procedures are done.