Post Classifieds
I solemnly swear J.K. Rowling is up to another movie series
By Alisha Wright
On October 16, 2013
The release of the final 'Harry Potter' movie in 2011 marked what some might say was the end of an era. After following Harry and his friends through seven years of adventures in the wizarding world, the magic was finally ending. Or so the world thought.
On Sept. 12, J.K. Rowling posted on her Facebook page that Warner Bros. announced the book "Fantastic Beasts & Where To Find Them", a work by Rowling from the Harry Potter world, will be made into a movie series. The same post also stated that the movie will be Rowling's screenwriting debut. The Huffington Post reported on Sept. 12 that a release date for the first film has not yet been set.
"Fantastic Beasts" was originally published in 2001. The book describes 75 fictitious magical beasts and where to find them, according to Newt Scamander, the author of the book within the "Harry Potter" series.
Readers learn in the forward, written by Albus Dumbledore, that the book is a replica of Harry Potter's own copy, right down to the drawings he and his friends (mainly Ron) added to the book during particularly uninteresting classes.
So what can fans expect from the movie?
In her Sept. 12 Facebook post Rowling stated, "'Fantastic Beasts and Where to Find Them' is neither a prequel nor a sequel to the Harry Potter series, but an extension of the wizarding world."
As it has been reported that this is the beginning of a new series following Newt Scamander, fans are left to wonder if "Fantastic Beasts" will be broken into parts, much like the final "Harry Potter" film. The series could also encompass other books stemming from Harry's world.
Other books Rowling has published to accompany the "Harry Potter" series include "Quidditch Through the Ages" and "The Tales of Beedle the Bard".
Avid fans of the series may still be upset that Harry's story has come to an end. However, Potterheads seem utterly delighted that Warner Bros. and Rowling have decided to expand upon the magical world first created in the Harry Potter series and movies.
With Rowling writing the script fans can expect the movie will be held to the standards to which they have become accustomed. In a word, fans can expect the movie to be truly 'fantastic'.
Mischief managed!
Get Top Stories Delivered Weekly
More kirkwoodstudentmedia News Articles
Recent kirkwoodstudentmedia News Articles
Discuss This Article
MOST POPULAR KIRKWOODSTUDENTMEDIA
GET TOP STORIES DELIVERED WEEKLY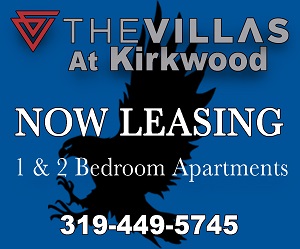 RECENT KIRKWOODSTUDENTMEDIA CLASSIFIEDS
HOUSING

JOBS

FOR SALE

TUTORS
Kirkwood students often admire
Lasik Omaha
doctors that are carving new paths in the field of eye care and transforming the way routine eye procedures are done.