Post Classifieds
Hate rages on despite Fred Phelps' death
By Ben Ashcraft
On April 21, 2014
Fred Phelps is the well-known founder of the Westboro Baptist Church. His congregation recognizes him as a powerful man of God and a respectable lawyer, but the rest of the country would recognize him as otherwise.
The people of the Westboro Baptist congregation are notoriously known for their picketing of funerals for celebrities and soldiers and just about anything else that is in the mainstream media.
Holding signs that read "God Hates Fags" and "Thank God for Dead Soldiers", these bigoted churchgoers have relentlessly traveled the country and even other parts of the globe to spew their utter hatred in hopes to "educate and warn" the rest of the world.
Recently, a big weight was lifted off the people of America when Fred Phelps died of natural causes on March 19, 2014. Although it is not good to be celebrating the death of anyone, many people could breathe calmly again after finding out about Fred's eternal absence.
Unfortunately, even with the death of the pastor and founder of WBC, the congregation has no plans to stop picketing.
Yes, Fred's dead but time moves on and that's exactly what everyone else in the Westboro Baptist Church is doing.
If you are an activist for the LGBT community and feel that you've won some sort of battle when Fred Phelps died, then you've got another thing coming.
The war against hate rages on and the world is still filled with homophobia that is constantly on the rise in the world of politics, religion and every bit of media you can find.
Celebrating the death of Fred Phelps makes you no better than his family who would celebrate the death of U.S. soldiers. Rise up and continue to raise awareness on the constant discrimination against homosexuality. The only way we can accomplish some sense of equal rights is to come together with a positive attitude. Don't stoop to the level of bigotry; stay above the rest and never back down.
Get Top Stories Delivered Weekly
More kirkwoodstudentmedia News Articles
Recent kirkwoodstudentmedia News Articles
Discuss This Article
MOST POPULAR KIRKWOODSTUDENTMEDIA
GET TOP STORIES DELIVERED WEEKLY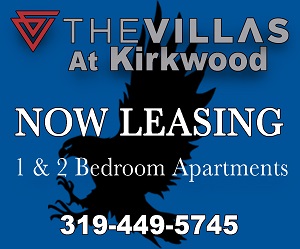 RECENT KIRKWOODSTUDENTMEDIA CLASSIFIEDS
HOUSING

JOBS

FOR SALE

TUTORS
Kirkwood students often admire
Lasik Omaha
doctors that are carving new paths in the field of eye care and transforming the way routine eye procedures are done.