Post Classifieds
Editors Entertainment Picks 2012
On December 10, 2012
'Homeland'
Dallas Wilcox
Photo Editor
If you're looking for one of those addicting, cliff-hanging TV shows, you have to watch HBO's Homeland. The Showtime hit stars Claire Daines as the main character; Carrie Mathison who is an emotionally distressed CIA Agent, and Damian Lewis starring as Nicholas Brody, a Marine who went missing for eight years while fighting the war on terrorism in Iraq. Aftetr the assumption that Brody was dead, government officials recovered his tracks and found him alive. He returned home as a war hero, yet Mathison's instincts saw a different man in Brody. Believed to be a trader now helping plot attacks on America, Brody's lifestyle just doesn't add up to the 'All-American hype', and Mathison is on to him. Mathison's boss, Saul Berenson, finds her to be crazy and doesn't support her investigation of Brody yet the two CIA specialists are close. Mathison finds potential evidence that could put Brody in another kind of spotlight gaining Berenson's approval. The rest is up to you to find out what happens.
Adele's 'Skyfall'
Leah Coffman
Copy Editor
Her name has been on everyone's lips and her voice in everyone's ears. Adele's Grammy-sweeping year reached a new zenith with the release of "Skyfall," the title track from the latest Bond film. With her dark, soulful vocals and powerful chorus, Adele's "Skyfall" is a fitting successor to Bond songs such as the immortal "Goldfinger" by Shirley Bassey. The song perfectly creates the sexy yet dangerous mood of a Bond film while still feeling modern and relevant.
The song works not only as the title track for a film but also as an addition to Adele's oeuvre of chart-smashing hits. In a modern music scene dominated by autotune and electronic music, Adele's powerful voice sets a high standard which "Skyfall" more than meets.
PSY's 'Gangnam Style'
Dexter White
Managing Editor
The unexpected smash hit of 2012 came from South Korean artist PSY with the song "Gangnam Style." After being released on July 15, it has enjoyed major success in the United States. Featuring elements of hip-hop and dance, the song's beat will catch anyone's attention and is unique enough to give it an undeniable appeal.
A full appreciation of "Gangnam Style" cannot be realized without also viewing the accompanying YouTube video. Artist PSY has managed to make the absurd and simple dance moves that go along with the song appear as serious and cool. The video has amassed over 800 million views, making it the most viewed YouTube video ever after surpassing Justin Bieber's video "Baby" in November.
'Time to Run' by Lord Huron
Talee Mabe
Feature Editor
"Time To Run", a track by artist Lord Huron, galvanizes listeners to the beat of a spun-out nostalgic love song. A dreamy beginning features stray bells and echoes as if a listener is hearing the sounds of a ghost town. The protagonist, an erstwhile lover and renegade, seems to have spun out of a Western in a manner that is deeply resonant. The song bounds along, with tinkling, percussive instrumentation giving us a space to travel along with the protagonist. The feeling of love supersedes, inviting his love to "run away with (him) and it will all make sense" with an allure of untold promises and quick getaways. With a riveting milieu of drums and guitars, the music stokes up passion, anticipation and wild, hopeful abandon.
'Real Time with Bill Maher' on HBO
Thomas Lawrence
A&E Editor
The only live, uncensored show on television entered its 10th season this year. Maher and 'Real Time' producers seamlessly infuse comedy, political satire, interviews and opinion unlike any other. Following 8 seasons on Comedy Central and ABC, 'Politically Incorrect' Real Time emerged better than ever. HBO seemed an almost inevitable destiny and perfect marriage considering Bill's bold and unapologetic style. Maher has always challenged the status quo and has earned quite the reputation as an outspoken and original voice in the face of resistance and adversity. Supporters of "common sense" politics for those who live "outside the bubble" will find his show engaging.
Maria and the Diamandis 'ElectraHeart'
Jessica Duling
News Editor
Killer vocals, sensuous ballads and electro pop dance tracks? You may think I'm talking about albums by Lana Del Rey or Katy Perry but I'm talking about Marina Diamandis' attitude charged album "Electra Heart." The unique electro pop sound of her second album rocked the charts to no. 1 in the U.K. and challenges female roles in mainstream culture with her songs like "Prima donna" and "Power and Control" all through her character Electra Heart. The album represents common female roles in love stories and exposes the exploitation of women in the media and the dystopian American dream. She provides ethereal airy vocals paired with vivacious beats and underlying feminist themes.
Macklemore & Ryan Lewis' 'The Heist'
James Hardman
Visuals/Graphics Editor
Macklemore and Ryan Lewis pulled out all of the stops for their greatest album, 'The Heist.' They have been producing and making music since they were 17 and each song envelops you in an emotional blanket that you can't get out of. Their lyrics flow leave an imprint that you will never forget. The songs in the album draw from their Seattle upbringing to their rise from nothing to something. In addition to the serious aspects of the album, songs such as 'Thrift Shop' and 'Castle' that provide entertainment and comic relief to listeners. M & L go beyond rapping with lyrics and storytelling that include pressing issues such as alcohol abuse, gay rights and death. The album ends with a thank you song to all of their supporters called 'Victory Lap'. Respect is due for this dynamic duo.
Get Top Stories Delivered Weekly
More kirkwoodstudentmedia News Articles
Recent kirkwoodstudentmedia News Articles
Discuss This Article
MOST POPULAR KIRKWOODSTUDENTMEDIA
GET TOP STORIES DELIVERED WEEKLY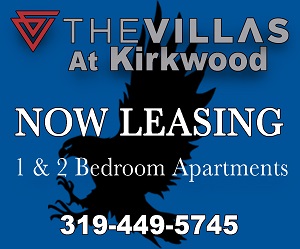 RECENT KIRKWOODSTUDENTMEDIA CLASSIFIEDS
HOUSING

JOBS

FOR SALE

TUTORS
Kirkwood students often admire
Lasik Omaha
doctors that are carving new paths in the field of eye care and transforming the way routine eye procedures are done.