Post Classifieds
Music downloading: Piracy or sharing?
By Jessica Duling & M. Thomas Lawrence
On December 10, 2012
Jessica Duling
File sharing is a turn of the century gift to all, artists and fans alike. It allows for artists' music to reach more people. While piracy is wrong, it is exaggerated by major producing companies to be worse than it actually is.
Piracy is stealing but the individual songs aren't an artist's only income. They still make money from merchandise and tours. Stealing a song doesn't create an evident loss on another as would stealing a wallet or car.
According to a 2010 release by the US Government Accountability Office (GAO), there is no way to accurately gauge what the impact of online piracy is on the economy. The GAO added that regarding counterfeit and pirated goods, "generally, the illicit nature of counterfeiting and piracy makes estimating the economic impact of IP infringements extremely difficult, so assumptions must be used to offset the lack of data."
Many artists, such as contemporary artist Norah Jones, have embraced file sharing. In an interview with Sky News, she said, "If people hear it, I'm happy. I'm not going to say go steal my album but I think it's great that young people who don't have a lot of money can listen to music and be exposed to new things."
Isn't that the whole point? The point being that as long as music is still reaching people and artists are still gaining new fans everyday, how much does that actual purchase of a song matter in the big scheme of things?
Former front-man of the band Oasis, Liam Gallagher, seems to agree with this idea. "I hate all these big, silly rock stars who moan-at least they're downloading your music...and paying attention, know what I mean? You should appreciate that," said Gallagher in an interview with ShortList, a men's magazine issued in the UK.
Shakira is also supportive of file sharing, saying in an interview with the Daily Mail that, "It's the democratization of music in a way. And music is a gift. That's what it should be, a gift."
M. Thomas Lawrence
While it can be hard to digest for those who have been doing it for years, the reality is that downloading music illegally is stealing. There is just as much reason to feel guilty for downloading an album as stealing a pair of shoes or leaving without paying at a restaurant. Some people can justify any action given the opportunity and time for creative reasoning, but file-sharing and downloading is illegal and for good reasons.
The only difference between stealing a CD from the store and illegally downloading off the Internet is the delivery medium. Digital music and electronic products were created to be more convenient to the consumer.
Unfortunately, this convenience created an ease of copying and stealing. Music thieves may call it "sharing," but sharing copy-written material is intellectual property theft.
With the advent of legal music streaming services, there's little need to invest the time in illegal downloading. Many such sites offer nearly unlimited downloads for a small fee.
Several Internet radio sites such as iTunes Radio or LastFM provide a vast amount of music for free and are subsidized by advertising. Subscription services to Spotify, Pandora and Rhapsody are free or charge a nominal fee, allowing consumers to listen to a wide range of music without an ethical dilemma. It also allows consumers to continue to financially support artists they enjoy.
The cost of recording, engineering and producing a record runs into the tens of thousands of dollars. Illegally downloading the album sends a message to the artist, producers, engineers and support staff that their work is not worth a few extra dollars.
Artists and other members of the music business deserve to be paid for their work just as workers in any other field. Without financial support from consumers, the selection and quality of content may suffer or disappear altogether.
Get Top Stories Delivered Weekly
More kirkwoodstudentmedia News Articles
Recent kirkwoodstudentmedia News Articles
Discuss This Article
MOST POPULAR KIRKWOODSTUDENTMEDIA
GET TOP STORIES DELIVERED WEEKLY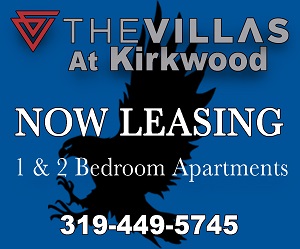 RECENT KIRKWOODSTUDENTMEDIA CLASSIFIEDS
HOUSING

JOBS

FOR SALE

TUTORS
Kirkwood students often admire
Lasik Omaha
doctors that are carving new paths in the field of eye care and transforming the way routine eye procedures are done.