Post Classifieds
Practice safe driving this winter
By Staff Editorial
On December 10, 2012
The Kirkwood Community College campus parking lots and Kirkwood Boulevard have been the location of many automobile accidents this semester. What's most alarming about the high number of accidents is that driving in hazardous winter weather hasn't begun yet.
During the wintertime car accident rates generally increase because road conditions become more hazardous and unpredictable. Low visibility and slippery roads caused by fog, snow and ice are obstacles that drivers who live in Iowa must manage for three to four months out of the year.
Accidents on campus roads and on Kirkwood Boulevard are major inconveniences for the drivers involved and can be very costly. In the worst cases they can cause serious injuries or fatalities.
However, drivers are capable of preventing accidents. It starts by learning and understanding that all car accidents share one common cause: Driver error. Icy roads and low visibility may be contributing factors for accidents but ultimately poor driving decisions are to blame in almost every accident.
The most common errors drivers make are failing to pay attention to other vehicles and failing to make adjustments to comply with the road conditions. During the winter drivers should pay extra attention to surrounding vehicles and allow a greater distance between cars in poor conditions. That way there will be more time to react in the event of a slip or another driver's sudden braking.
Common sense should dictate a driver's speed in wintery conditions. Driving slower on snow and ice helps prevent the unexpected loss of control that can occur on slick roads. Preventative measures like these are crucial for a driver who does not want to be involved in an accident.
Preparations for winter driving should also be made. Making sure a car is equipped with provisions for winter and allotting more time for a trip can help prevent accidents.
If drivers become more educated in winter driving a lot of money, headaches and lives could be saved.
Winter car survival kit:
• Ice scraper and brush
• Coffee can furnace
• Boots, gloves, hat
• Tools and flashlight
• Tire traction material such as sand or cat litter
• Food and blanket
• Jumper cables
• First aid kit
• Cell phone
• Flares or reflective triangle
• Shovel
Source: www.aaa.com
Get Top Stories Delivered Weekly
More kirkwoodstudentmedia News Articles
Recent kirkwoodstudentmedia News Articles
Discuss This Article
MOST POPULAR KIRKWOODSTUDENTMEDIA
GET TOP STORIES DELIVERED WEEKLY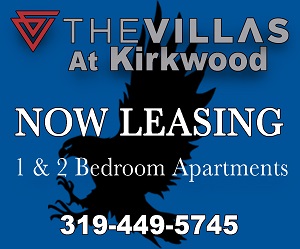 RECENT KIRKWOODSTUDENTMEDIA CLASSIFIEDS
HOUSING

JOBS

FOR SALE

TUTORS
Kirkwood students often admire
Lasik Omaha
doctors that are carving new paths in the field of eye care and transforming the way routine eye procedures are done.