Post Classifieds
Pakistani student gains edge at Kirkwood
By Jordan Burmeister
On October 16, 2012
Nazim Ullah Baig is an international student at Kirkwood Community College. He discussed his life, culture and experience at Kirkwood in a question and answer session.
Q: Nazim, tell me where you're from and something about your country.
A: I am from Hunza, Pakistan. The Hunza region of Pakistan is in the northeast portion of the country near China and India. Hunza is surrounded by mountains from all sides. This includes the K2 mountain, which has the second highest peak in the world.
Q: What was your career in Pakistan?
A: I have a tourism company in Pakistan. We are called the Pakistan Explorers. Our website is pakistanexplorers.com. It is in English, if people are interested in checking it out. We give cultural tours, help with research and documentaries, go mountain climbing, raft, go on expeditions, paraglide and even hunt.
Q: Do you hunt?
A: Yes, we hunt ibex (a type of mountain goat). We also have very exotic animals in Hunza such as yaks and snow leopards.
Q: How is the tourism business in Pakistan?
A: I enjoy it a lot and it is the main reason I came to America. I have the opportunity to learn more about culture and tourism. Our business is great. From the tourist's point of view, Pakistan is paradise. It is beautiful with high plains, mountains, fresh lakes and rivers and ancient Indus and Gandhara civilizations that are over 4,000 years old. We have tourists from America, Australia, China, Japan, Indonesia and Europe.
Q: That's a lot of diversity; I am sure you speak more than one language.
A: Yes, I speak the main language of Pakistan, Urdu. I also speak four other native languages of Pakistan in addition to English. In Pakistan there are 22 languages spoken throughout the country, including 65 dialects. They all have different cultures, traditions, and customs.
Q: How did you end up coming to America as an international student?
A: I got a scholarship through CCID (Community College for International Development). It is a very good program for international students. It benefits American students as well because it allows for education and cultural exchange. I like it here. I want to continue to travel and experience other parts of America. I want to go to Las Vegas, California, New York and Washington D.C.
Q: How has it been adjusting to life in America?
A: I have had a lot of help from other people. My coordinator, teachers and mentor family have been great support. They help and guide me in the right direction when I miss my home and family in Hunza. Overall, I like being here in Iowa.
Q: What are you studying at Kirkwood?
A: I structure my classes around tourism and hospitality management. I hope to come back to my tourism company better educated and experienced so I can be as professional as possible.
Get Top Stories Delivered Weekly
More kirkwoodstudentmedia News Articles
Recent kirkwoodstudentmedia News Articles
Discuss This Article
MOST POPULAR KIRKWOODSTUDENTMEDIA
GET TOP STORIES DELIVERED WEEKLY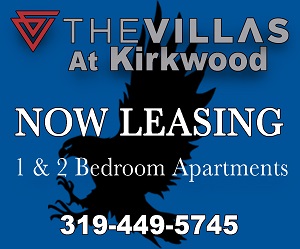 RECENT KIRKWOODSTUDENTMEDIA CLASSIFIEDS
HOUSING

JOBS

FOR SALE

TUTORS
Kirkwood students often admire
Lasik Omaha
doctors that are carving new paths in the field of eye care and transforming the way routine eye procedures are done.