Post Classifieds
Fresh coaching crew takes helm of men's basketball team
By Gavin Jones
On October 16, 2013
With 10 active freshmen on the 2013-2014 Kirkwood men's basketball team roster, this Saturday's game vs. Mt Mercy University is highly anticipated for various reasons. It marks the first collegiate game for many freshman players who have been waiting all off-season to start their collegiate career. It also marks another type of debut - the day coaches Bryan Peterson, Ben Jacobson and Taylor Blum start their careers here at Kirkwood.
A Clinton native head coach Bryan Peterson attended Kirkwood from 2005-07 playing basketball both years. In his second season here Peterson averaged 12.3 points and also snagged an average of 5.5 rebounds. Also earning the award for region MVP.
In 2008 Coach Peterson took his talent to Ames as a recruited walk-on and immediately was named a starter. That season he scored a team high of 48 3-pointers. According to Kirkwoodeagles.com, Peterson never missed a practice or a game as a cyclone. He made 93 career 3 pointers at ISU and averaged 6.6 points, 3.7 rebounds and 2.7 assist his senior season.
He then went on to start his coaching career. He served his first three seasons as an assistant coach at Iowa State under Doug McDermott and Fred Hoiberg. In 2012 Iowa State won 23 games and earned their first AP top 25 ranking since Peterson started his career there in 2005.
In 2012 Peterson returned to Johnson Hall but this time as a coach not a player. The Eagles went on to finish with a record of 19-13 and finished second in ICCAC ranking. Responsible for player development, Peterson coached five players to XI honor's.
Along his side this season will be Coach Ben Jacobson. Jacobson was a standout player in high school playing for Omaha Central High from 1996-2000. There he racked up 1,000 career points along with 500 rebounds and was named to the McDonalds all American honorable mention team.
He then went on to play at Lamar University in Beaumont, Texas his freshman year and transferred to Iowa Western Community College his sophomore season.
At Western he contributed an average of 13 points and 7 rebounds per game while helping his team to a 25-6 record. For his second season, Jacobson served the role as team captain after transferring to Tennessee Tech. That year Tech won the Ohio Conference Championship and also did not lose a game on their home court. Throughout his college career he also was invited to take place in the Maccabi Games, which is a international competition similar to the Olympics on a lesser scale.
He got his coaching debut at West Valley Community college for a year only to leave them for a job as an assistant at Highland Community College in Kansas. There he gave Highland the highest winning percentage the team has ever experienced; along with there first ever trip to the National Tournament in 2011.
Accompanying coaches Peterson and Jacobson this season from the University of Dubuque is Taylor Blum. Blum started his basketball career at Dubuque Senior where he is in the top 3 all time in scoring. He was a McDonalds All American nominee and a three-time all conference player in high school.
Coach Blum then went on to play for the University Dubuque all four years of his career, earning numerous honors. He was a four-time all-conference athletes and named to the all-conference team three times. He also was a distinct leader of the team also earning MVP three consecutive years.
After college coach Blum represented the USA D-III international team in Brazil in the summer of 2010. His coaching career began immediately after he graduated from the University of Dubuque. In the last two years coach Blum helped the Spartan to three back-to-back top three finishes, more wins then any team ever in a two year span, and also a trip to the NCAA D-III tournament this past year.
"The coaches and I try our hardest to meet and keep communication at its highest. I don't have all the answers as the head coach, those guys give me a lot of advice. Also, and we have similar beliefs when it comes to strategy and coaching philosophy which is also helpful, "said Peterson," Coach Wags (Doug Wagemester) taught me quite a bit also while I was playing and coaching under him, I am very lucky to have him still here in the building for advice when I need it. When it comes to the team, they look very good but have some things they still need to work on. All in all I am very excited for the upcoming season"
Get Top Stories Delivered Weekly
More kirkwoodstudentmedia News Articles
Recent kirkwoodstudentmedia News Articles
Discuss This Article
MOST POPULAR KIRKWOODSTUDENTMEDIA
GET TOP STORIES DELIVERED WEEKLY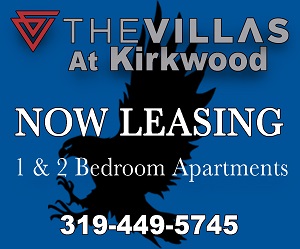 RECENT KIRKWOODSTUDENTMEDIA CLASSIFIEDS
HOUSING

JOBS

FOR SALE

TUTORS
Kirkwood students often admire
Lasik Omaha
doctors that are carving new paths in the field of eye care and transforming the way routine eye procedures are done.