Post Classifieds
Only two options? Hardly
Letter to the Editor
By Kat Jackson
On September 27, 2012
Obama or Romney. Who will I choose this year? Neither. I'm going to mark down the third guy who is going to be on the ballot this year - Gary Johnson.
This guy is a beast. He has run over 30 marathons and has a goal to climb the highest peak on every continent. He has three to go. He went from a door-to-door handyman to owning a million-dollar construction company with over 1,000 employees.
He was elected governor of New Mexico with no political experience as a Republican when the state voted 2-1 Democrat. After his first term, he was re-elected for a second one. He vetoed wasteful spending 720 times, more than all of the governors in the rest of the U.S. combined.
He's fiscally conservative and socially accepting. He believes gay marriage is a civil right and wants to make marijuana legal. "Control it, regulate it, tax it," he says.
Biggest of all, he wants to abolish the IRS. Instead of taxing you on your income, you are instead taxed on the purchases you make. Essentially, the more money you spend, the more taxes you pay, up to 23 percent, which is about the amount you're paying now.
The website www.fairtax.org gives the following example. Wealthy people spend more money than other individuals. They buy expensive cars, big houses and yachts. They buy filet mignon instead of hamburger, fine wine instead of beer, designer dresses, and expensive jewelry. The FairTax taxes them on these purchases. If, however, they use their money to build job-creating factories, finance research and development to create new products, or fund charitable activities (all of which help improve the standard of living of others), then those activities are not taxed.
Gary Johnson is innovative. I'd like to see him in office, and if in four years nothing has changed and we want to watch Republicans and Democrats throw each other under the bus again, we can always vote them back into office next election. Check him out at www.garyjohnson2012.com.
Get Top Stories Delivered Weekly
More kirkwoodstudentmedia News Articles
Recent kirkwoodstudentmedia News Articles
Discuss This Article
MOST POPULAR KIRKWOODSTUDENTMEDIA
GET TOP STORIES DELIVERED WEEKLY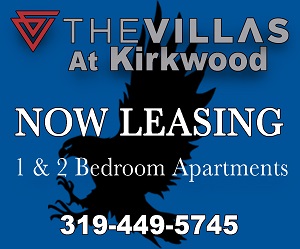 RECENT KIRKWOODSTUDENTMEDIA CLASSIFIEDS
HOUSING

JOBS

FOR SALE

TUTORS
Kirkwood students often admire
Lasik Omaha
doctors that are carving new paths in the field of eye care and transforming the way routine eye procedures are done.