Post Classifieds
The mediocre Wizard of 'Oz'
Movie Review
By Jessica Duling
On March 28, 2013
From "The Wizard of Oz" to "Wicked", there have been many stories centered around the familiar Emerald City. But the story of the eponymous wizard, unfamiliar to most, is captured in the recently released "Oz the Great and Powerful."
James Franco, starring as Oz, begins the film playing the character Oscar Diggs, an unethical magician living in a small town of Kansas. He is then carried away from the barren Midwest, just as Dorothy would later follow, to the wonderful land of Oz.
While there, Oscar learns of his destiny through meeting three witches: Theodora (Mila Kunis), otherwise known as the Wicked Witch of the West, Evanora (Rachel Weisz), the Witch of the East, and the Good Witch of the South, Glinda (Michelle Williams). In order for Oscar to become the king of Oz, he will need to find and kill the Wicked Witch.
The film is very imaginative and colorful and even has occasional moments of humor. With flowers that ring like a bell and crystal blue waters the movie is as creatively animated as Disney's earlier "Alice in Wonderland" (2010). Adults and children alike will enjoy the movie, particularly with its witty one-liners and wholesome life values.
As a lifelong fan of "The Wizard of Oz" I had high hopes for "Oz the Great and Powerful" but went into the theaters a little skeptical and was still underwhelmed by the final product. The film wasn't bad but it was far from the instant classic of the original. It also ran a little longer than I had expected though it was necessary for the film to finish the story line. However, the movie was a fun and entertaining way to spend two hours.
Directed by Sam Raimi (The Evil Dead), the film serves as a prequel to the 1939 classic. It opened in theaters March 8. The movie is rated PG and runs 130 minutes.
Get Top Stories Delivered Weekly
More kirkwoodstudentmedia News Articles
Recent kirkwoodstudentmedia News Articles
Discuss This Article
MOST POPULAR KIRKWOODSTUDENTMEDIA
GET TOP STORIES DELIVERED WEEKLY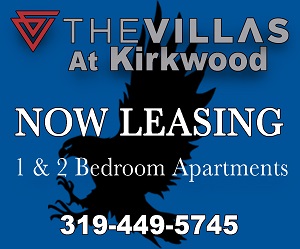 RECENT KIRKWOODSTUDENTMEDIA CLASSIFIEDS
HOUSING

JOBS

FOR SALE

TUTORS
Kirkwood students often admire
Lasik Omaha
doctors that are carving new paths in the field of eye care and transforming the way routine eye procedures are done.