Post Classifieds
Bouncing along with 'Blonde'
By Talee Mabe
On March 28, 2013
With a debut on March 1, Theatre Cedar Rapids's production of 'Legally Blonde: The Musical' exploded onto the stage.
Like the movie "Legally Blonde", the play has an Elle Woods; unlike the movie, the recent TCR production had songs and dances that followed the blonde's adventures.
The musical, which perks up the original film, is enjoyable but still leaves a few details to be desired. It features wild departures from the original movie with mixed results but still maintains the pink coated heroine-takes-all tale.
The departures are necessary to some extent, as the popular film barely featured song and dance numbers. However, certain plot changes in the musical, in an effort to make it better suited to the stage, were somewhat disappointing.
However, I was excited and touched by the production, with its range, boundless energy and capacity for spunk, sorrow and spirit.
Part of the charm of the show is its inherent youthfulness.
Costuming helped to seal in this contemporary quality. Updated even from the 2001 film, the members of the Delta Nu sorority were featured in Pink-label sweats and other plausible garb. The wardrobes of the ensemble were crisp and contemporary throughout the production.
Enhancing the show's youthfulness was the choreography, which balanced originality and reflecting the established culture. While the dance numbers weren't always in sync, I did enjoy the ones that were.
Performances were vivacious and never without a young and infectious enthusiasm. Particularly impressive were the ensemble members portraying members of Woods's Delta Nu sorority.
The young women bounced, bopped and "bent & snapped" their way through the show, acting as Woods's personal cheering squad. The "Greek chorus" provided appropriate narration for the action of the play. Principal among this chorus were Margot, Serena and Pilar, who lead off several choruses themselves with silliness and sass, all the while bolstering Elle through her journey.
With an incredible ensemble cast, Theatre Cedar Rapids has taken this caffeinated, occasionally cheesy but endearing musical and made it its own with precision and pizzazz.
The production, which featured Kirkwood student Olivia Deutmeyer, Liberal Arts emphasis, as a member of its ensemble cast, was staged each weekend through March 23. More information regarding future productions can be found by visiting Theatre Cedar Rapids's website at www.theatrecr.org.
Get Top Stories Delivered Weekly
More kirkwoodstudentmedia News Articles
Recent kirkwoodstudentmedia News Articles
Discuss This Article
MOST POPULAR KIRKWOODSTUDENTMEDIA
GET TOP STORIES DELIVERED WEEKLY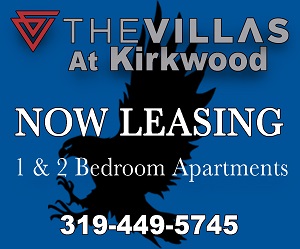 RECENT KIRKWOODSTUDENTMEDIA CLASSIFIEDS
HOUSING

JOBS

FOR SALE

TUTORS
Kirkwood students often admire
Lasik Omaha
doctors that are carving new paths in the field of eye care and transforming the way routine eye procedures are done.