Post Classifieds
Dear students, where have you gone?
Letter to the Editor
On March 28, 2013
An Open Letter to Students Who No Longer Attend My College Writing Class:
When I read the Staff Editorial "Instructors should engage students in learning," I thought of you, dear Dozens of Students Who No Longer Attend My College Writing Class and my heart broke.
I wondered once again where you are and why you broke off our engagement.
What happened, my darling? Was it something I did, something I said? I think back to the day we met, the day I handed out a syllabus and proposed to you. I felt so nervous, yet also so exhilarated and hopeful. I was sure you felt the same way.
Then when you attended class the second day, I was overjoyed because I thought you had accepted my proposal.
I so badly wanted us to be engaged that I asked you to share your ideas with a classmate and then, oh bliss, with me! . . . Is that where I went wrong? Was I too eager? Too forward?
Or did you just get tired? Maybe you thought there was nothing I could teach you-and no wonder, given how smart and talented you are, and how much I have yet to learn.
But, my dear, surely we could have taught each other, reaching together heights of critical thinking impossible to achieve alone.
I tried to rekindle the early excitement by playing a video I thought you'd like, inviting a guest speaker, arranging elaborate group activities, even playing your favorite song in class.
But you weren't there. So I e-mailed you. I called. I submitted your name to a retention specialist. You did not reply.
Now I'm begging, my love: please give our engagement another chance. It may be too late for this semester, but I'll be waiting in the fall.
Sondra Smith Gates
Instructor of English
Get Top Stories Delivered Weekly
More kirkwoodstudentmedia News Articles
Recent kirkwoodstudentmedia News Articles
Discuss This Article
MOST POPULAR KIRKWOODSTUDENTMEDIA
GET TOP STORIES DELIVERED WEEKLY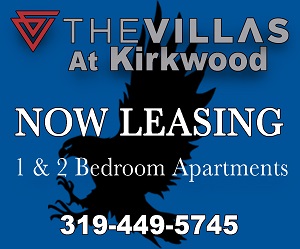 RECENT KIRKWOODSTUDENTMEDIA CLASSIFIEDS
HOUSING

JOBS

FOR SALE

TUTORS
Kirkwood students often admire
Lasik Omaha
doctors that are carving new paths in the field of eye care and transforming the way routine eye procedures are done.