Post Classifieds
Carbon taxation won't cure climate change
By Dexter White
On March 28, 2013
Based on abundant scientific evidence from reliable sources, it is clear that human activity is at least in part responsible for causing global climate change on Earth. It would be ignorant to suggest otherwise.
Industrialization has increased the amount of greenhouse gases released into the atmosphere over the last century. These gases prevent heat radiation from escaping the atmosphere, which causes the climate to gradually become warmer.
While it may be undisputed that global climate change is occurring, the effects that it will bring are debatable. Thorough climate data is recorded but it is much more difficult to accurately forecast the climate changes for the future. The truth is that no one can predict for sure what will happen as a result of global climate change.
However, the consequences of excessive government taxes and regulations that would impact the economy caused by can be readily foreseen. Emissions taxes and mandates would have a far-reaching, negative impact on all businesses and consumers. The amount of greenhouse gases prevented from being emitted into the atmosphere would be negligible in comparison to the burden placed on taxpayers.
Carbon emissions taxes would affect any person or business that uses fossil fuels. When developing the tax system, the government can determine acceptable levels of pollution and then can manipulate the amount of pollution by raising or lowering the taxes on fossil fuels. As the tax increases, the quantity demanded would fall and fewer fossil fuels would be consumed.
The business taxes, if instituted properly, would have to be higher than the cost of updating equipment to meet energy efficiency standards. Due to the taxes, the most profitable option would be to upgrade. Any tax rate lower than the amount to make the updates would simply be a collection fee from the government and would do nothing to reduce emissions.
In order to reach a significant level of emissions reduction, the taxes levied would have to be so high that they would undoubtedly bring on an economic depression. Implementing taxes is especially ineffective when considering the global scale of climate change. The United States is only responsible for about 16.4 percent of worldwide carbon emissions, according to a 2010 estimate by the United States Department of Energy's Carbon Dioxide Information Analysis Center.
This percentage is shrinking year-after-year as other nations become more industrialized, although total carbon emissions are increasing. China is now the largest emitter of greenhouse gases.
In order to effectively combat the facilitation of global climate change, long-term changes are needed as opposed to instituting burdensome taxes. Consumer demand for energy is the driving force behind the use of fossil fuels. Today, fossil fuels are used because they are more efficient than the alternatives. Currently, there is not enough energy generated from sustainable resources to adequately meet the demand of consumers.
Decreasing the demand for energy generated by fossil fuels is the most effective method to reduce carbon emissions. Consumers must be willing to pay a higher price for the energy produced from renewable resources rather than pay a lower price for more abundant energy produced from fossil fuels.
If consumers begin to treat energy produced from renewable resources a premium good, both using and producing renewable energy will become a viable and profitable market for businesses to pursue.
Market demand for renewable energy is a powerful force that has the capability to significantly reduce emissions. If demand for fossil fuels is not decreased, it is unrealistic to expect carbon emissions will ever decrease, either.
Get Top Stories Delivered Weekly
More kirkwoodstudentmedia News Articles
Recent kirkwoodstudentmedia News Articles
Discuss This Article
MOST POPULAR KIRKWOODSTUDENTMEDIA
GET TOP STORIES DELIVERED WEEKLY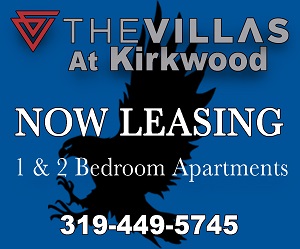 RECENT KIRKWOODSTUDENTMEDIA CLASSIFIEDS
HOUSING

JOBS

FOR SALE

TUTORS
Kirkwood students often admire
Lasik Omaha
doctors that are carving new paths in the field of eye care and transforming the way routine eye procedures are done.