Post Classifieds
Kettmann Shares Kirkwood Experiences
By Spencer Schmidt
On April 26, 2013
As an admissions adviser at Kirkwood Community College, Nick Kettmann spends most of his time on the other side of the state recruiting for the college. Kettmann stated "I had a wonderful time at Kirkwood as a student and I wanted to share my experiences with new students who come to Kirkwood."
While a student here at Kirkwood he said he was an elementary education major. "I got a little side tracked using my major for my career choice but I love what I do for Kirkwood," stated Kettmann
According to Kettmann his favorite class at Kirkwood was collage writing. "I use to never be a fan of writing before I took the class, it was the teacher that I had who made the class so enjoyable" stated Kettmann.
Kettmann said as a student he worked in the admissions office and was a student ambassador which had a little influence on his decision to come back to work at Kirkwood.
Kettmann said he came back to Kirkwood to work because of the great experience he had as a student at Kirkwood. He said he wants future student to share and have the same experience he had as student.
It can be difficult recruiting on the other side of the state competing against other community colleges in that area, said Kettmann. He also said he does most of the recruiting for high schools in western Iowa, which includes eighty to ninety different schools in the area.
Kettmann stated he helps out at most of the college fairs around the area and also sets up any of the individual visits or small and large group visits that happen at Kirkwood campus.
One of the biggest challenges, according to Kettmann, he faces while recruiting is the bad weather and trying to plan visits to fit a schedule because some of the drives to and from western Iowa are pretty lengthy.
Some big changes that have gone on at Kirkwood since Kettmann was a student at Kirkwood are all the new renovations and additions added to Kirkwood's campus " everything is getting bigger and better" mentioned Kettmann. The new addition added to cedar hall was not there while Kettmann was a student.
Get Top Stories Delivered Weekly
More kirkwoodstudentmedia News Articles
Recent kirkwoodstudentmedia News Articles
Discuss This Article
MOST POPULAR KIRKWOODSTUDENTMEDIA
GET TOP STORIES DELIVERED WEEKLY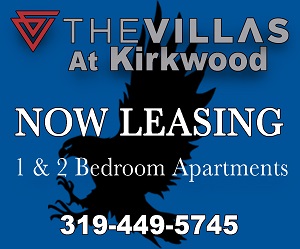 RECENT KIRKWOODSTUDENTMEDIA CLASSIFIEDS
HOUSING

JOBS

FOR SALE

TUTORS
Kirkwood students often admire
Lasik Omaha
doctors that are carving new paths in the field of eye care and transforming the way routine eye procedures are done.