Post Classifieds
Venture into the underworld with 'Eurydice'
By Leah Coffman
On April 12, 2013
The classical myth of Orpheus and Eurydice explores love and loss as Orpheus travels to the underworld to rescue his lost love from death only to lose her again. However, in Sarah Ruhl's 2003 play "Eurydice", the tale is told from Eurydice's perspective as she faces her own struggles with love in the bowels of the underworld.
According to Rick D. Anderson, Kirkwood Community College associate theatre professor and the director of the show, this blend of classic and modernity led him to the show. "It allows us to work in a classic yet modern medium," he said. Anderson also noted that the show holds particular interest for him since the playwright is originally from the Quad Cities. He also said that the play makes references to locations within the Quad Cities, giving it a decidedly Midwestern feel.
The show has a cast of seven people, focusing on Eurydice and her journey through the underworld instead of the traditional view of Orpheus's struggles to rescue Eurydice.
"It really sets up to be a play about Eurydice finding her father who has passed," said Anderson. "It has a really dominant female voice."
Nikki Groth, Liberal Arts emphasis who plays Eurydice, commented that the changed perspective adds detail to the classic myth. "Eurydice's pulled in every direction," she said. She also said that the show contrasts the naïveté of her relationships with Orpheus and her father against a darker, seductive force as Eurydice is forced to make choices.
Groth also stated the show has a richly poetic use of language, creating an almost impressionistic version of the myth. Ethan Nelson, vocal performance emphasis portraying Orpheus, agreed. "The writing is absolutely beautiful. It's very poetic and very surreal," he said.
The show takes Eurydice on a journey through love and loss. "There's some sad things and some really wonderful things and some nice memory moments. It's sad but also uplifting," said Anderson.
The show opens in Ballantyne Auditorium tonight, April 11, at 7:30 and runs through Sunday, April 14 with a 2 p.m. matinee. Admission is free for Kirkwood students, faculty and staff.
Get Top Stories Delivered Weekly
More kirkwoodstudentmedia News Articles
Recent kirkwoodstudentmedia News Articles
Discuss This Article
MOST POPULAR KIRKWOODSTUDENTMEDIA
GET TOP STORIES DELIVERED WEEKLY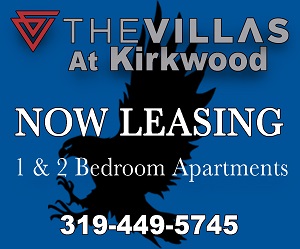 RECENT KIRKWOODSTUDENTMEDIA CLASSIFIEDS
HOUSING

JOBS

FOR SALE

TUTORS
Kirkwood students often admire
Lasik Omaha
doctors that are carving new paths in the field of eye care and transforming the way routine eye procedures are done.