Post Classifieds
Blind student brings fresh insight
By Jackie Duden
On September 30, 2013
Clayton Jacobs, Liberal Arts. Photo By Trevor Greenfield
This is Clayton Jacobs', Liberal Arts emphasis, first semester at Kirkwood Community College and he's already reaching out to make changes for the visually impaired.
Jacobs, born blind, discussed setbacks he has experienced to which most students never give a second thought.
Jacobs said he has had issues with receiving textbooks translated for the visually impaired in time for the start of classes.
"For example, in one of my classes I just got my syllabus. I need the syllabus available on ANGEL so I can have access to it on my equipment and my instructor was delayed in getting it on there for me to use," Jacobs said.
Jacobs said he has begun an attempt to motivate instructors to work faster at providing him and other visually impaired students with the accommodations they need.
While Jacobs is advocating for himself and others, he said that using a negative approach is never the answer.
"I used to threaten law suits all the time but that doesn't get you anywhere. Now I talk about why a change would be mutually beneficial," he said.
Jacobs mentioned that having syllabi available on ANGEL immediately at the start of a semester could increase the level of communication between students and instructors. It can also diminish the delay that students who need accommodations experience.
Jacobs said he has been meeting with Kirkwood staff to implement a requirement for instructors to be notified of incoming visually impaired students ahead of time.
His goal is to require instructors with visually impaired students to have their syllabus and course information available on ANGEL so the students can access it immediately at the beginning of the semester.
Julie Prasil, an assistive technology specialist who works directly with the ADA and visually impaired students, said she meets with students and helps them get their textbooks ready to go.
Prasil said she also walks students' routes with them before classes start.
Prasil said she ensures students are being properly accommodated. She also shared that often, visual students don't know how to approach visually impaired students.
Jacobs also discussed his interactions with peers. "While students are willing to help me, they refuse me when I offer them help." He added, "It feels good to help others and have the diplomatic relationships that comes with that."
Jacobs said he would love the chance to return the friendly help offered to him at Kirkwood.
Jacobs said he hopes to attend Harvard University to eventually study law and focus on disabilities and philanthropy.
"The world opens up to you only as much as you open up to it. Nothing is ever too difficult to deal with," Jacobs said.
Get Top Stories Delivered Weekly
More kirkwoodstudentmedia News Articles
Recent kirkwoodstudentmedia News Articles
Discuss This Article
MOST POPULAR KIRKWOODSTUDENTMEDIA
GET TOP STORIES DELIVERED WEEKLY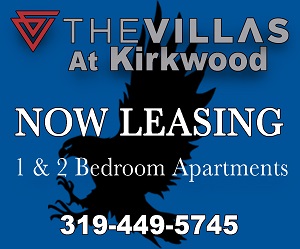 RECENT KIRKWOODSTUDENTMEDIA CLASSIFIEDS
HOUSING

JOBS

FOR SALE

TUTORS
Kirkwood students often admire
Lasik Omaha
doctors that are carving new paths in the field of eye care and transforming the way routine eye procedures are done.