Post Classifieds
Going green: Not just for tree-huggers
By Trevor Greenfield
On September 30, 2013
In recent years Kirkwood Community College has taken numerous steps toward becoming more ecologically friendly and environmentally conscious.
According to Fred Ochs, professor of earth science and chemistry, some of these steps include using the wind turbine to provide clean energy, remodeling Linn Hall to be more energy efficient and offering recycling through the student-started commingling program.
Ochs said that there are three main areas on which people should focus: Energy, water and food.
In regard to energy use, Ochs recommended turning off appliances and electronics when they are not in use due to their constant energy drain.
He also recommended properly using window shades to maintain room temperatures in homes or apartments. This is done by allowing light in to passively heat the home in winter and closing the shades during the summer to make the most of the air conditioning.
Ochs also discussed water conservation. He said one of the biggest ways to conserve water is to, "Simply shut off the water while brushing your teeth. There is no reason to leave it running." Ochs suggested using reusable water bottles as an easy way to be thrifty and green at the same time.
The food habits of Americans are causing a large release of CO2 into the atmosphere, according to Ochs. He shared that the U.S. government released information stating, "In the production of a pound of beef from start to finish, 19 pounds of CO2 are released into the atmosphere whereas the production of a pound of chicken only releases 2.5 pounds of CO2 and a pound of potatoes releases .3 pounds of CO2."
Ochs said, "I'm not telling everyone to become a vegetarian but just know what goes into what you eat."
Kyle Davis, general manager of The Café, said that there are many green options for students while dining on campus. The Café currently offers $1 coffee and soda refills if students bring their own cups, he said. The Café also has to-go boxes which are nearly 100 percent biodegradable. Davis also said there is a post consumer composting program currently in the works so that students can sort their own trash so that it can be composted.
"We'll make it happen; we just need students to be involved and educated," Davis said.
Get Top Stories Delivered Weekly
More kirkwoodstudentmedia News Articles
Recent kirkwoodstudentmedia News Articles
Discuss This Article
MOST POPULAR KIRKWOODSTUDENTMEDIA
GET TOP STORIES DELIVERED WEEKLY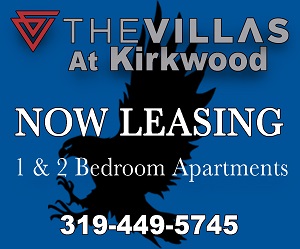 RECENT KIRKWOODSTUDENTMEDIA CLASSIFIEDS
HOUSING

JOBS

FOR SALE

TUTORS
Kirkwood students often admire
Lasik Omaha
doctors that are carving new paths in the field of eye care and transforming the way routine eye procedures are done.