Post Classifieds
Court should rule for equality
By Jessica Duling
On April 12, 2013
The political world has been in an uproar following the latest cases involving California's Proposition 8 and the Defense of Marriage Act (DOMA).
Currently only nine states have passed laws giving same-sex couples equal freedom to marry.
Iowa was among the first to allow that right, granting it in 2009. Even with equality on the state level same-sex couples still do not receive the same federal benefits that most couples take for granted. This is where prohibitive laws such Proposition 8 and DOMA take effect.
Proposition 8, or Prop 8 for short, is a state constitutional amendment that was passed Nov. 5, 2008 in California. It eliminated the rights of same-sex couples to marry in the state but it was soon found unconstitutional by California Judge Vaughn Walker (now retired) because it violated Due Process and Equal Protection clauses of the Constitution.
The amendment was overturned Aug. 4, 2010 but managed to make its way up the judiciary ladder up to the Supreme Court. The Supreme Court has already heard legal arguments and will review the case and issue a ruling in late June of this year.
DOMA is a U.S. federal law that restricts federal marriage benefits to heterosexual couples. Section 3 of the law specifically reinforces the non-recognition of same-sex marriage for all federal purposes like insurance benefits for government employees, immigration, the filing of joint taxes, and Social Security survivor's benefits. This law was passed and signed by President Bill Clinton on Sept. 21 1996.
DOMA treats same-sex couples as if they were single in the eyes of the federal government. They receive virtually no help from the government and do not get to enjoy the same rights that an opposite-sex couple would receive.
Eight federal courts found section 3 of DOMA unconstitutional following the Obama Administration's announcement supporting same-sex marriage in 2011.
Since the 1996 law was passed, President Clinton has changed his position on DOMA and has advocated for its repeal. The Supreme Court heard arguments about the law's unconstitutionality in Windsor v. United States on March 27, 2013.
The discussion of whether same-sex couples should have the right to marry has gone on far too long in the political arena. There is no physical evidence that homosexuals are worse parents than heterosexual couples and same-sex couples will in no way harm 'family values'. Their right to marry is a civil right just as it is for opposite-sex couples.
In the ground-breaking court case of Loving v. Virginia Chief Justice Earl Warren proclaimed that "marriage is one of the 'basic civil rights of man,' fundamental to our very existence and survival."
If the courts could determine in 1967 that the color of one's skin wasn't a prerequisite for marriage, then why is a person's sexuality being used as a means of denying legal rights?
The question of same-sex marriage is inherently a legal one, based on human and civil rights instead of religious beliefs and hateful rhetoric.
To deny a couple their federal rights and benefits on the basis of sexuality is a gross violation of civil rights. The issue should have been dealt with years ago.
The Supreme Court needs to make the decision in favor of marriage equality because it has been drawn out long enough.
Get Top Stories Delivered Weekly
More kirkwoodstudentmedia News Articles
Recent kirkwoodstudentmedia News Articles
Discuss This Article
MOST POPULAR KIRKWOODSTUDENTMEDIA
GET TOP STORIES DELIVERED WEEKLY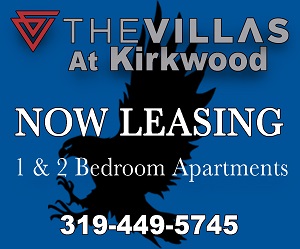 RECENT KIRKWOODSTUDENTMEDIA CLASSIFIEDS
HOUSING

JOBS

FOR SALE

TUTORS
Kirkwood students often admire
Lasik Omaha
doctors that are carving new paths in the field of eye care and transforming the way routine eye procedures are done.