Post Classifieds
Kirkwood students kick off with intramural fantasy football
By Zach Goodall
On September 30, 2013
While the football pros are hitting the field, 11 Kirkwood Community College students are hitting the web for Kirkwood's intramural fantasy football.
Fantasy football is an online-based, competitive meta-game that follows the NFL season. Players assume the role of their team's general manager and draft actual players from the NFL to build teams in order to compete with other players.
Fantasy football, while sharing many rules with the NFL, also has developed rules of its own in order to balance play, which makes it more fairly competitive. Positions that are available on a standard fantasy team are one quarterback, two running backs, two wide receivers, one tight end, one placekicker, one team defense and six benched players. Along with these positions teams are allowed to play one flex position, which can be another tight end, running back or wide receiver. Points are earned through good player performance and can be lost through bad performance. All of these rules are made to increase the competition and balance out players' teams. Because everyone can score, it's important to strategize and get the most out of which players fantasy football aficionados use.
Many different websites provide statistics tracking and bracket services, such as ESPN.com, which is what the intramural group uses. Since the advent of the Internet, fantasy football has grown rapidly in popularity. Leagues are becoming easier to access and start up due to this popularity surge. "It's exploded nationwide," Brett Baumgart, rec center and intramural coordinator, said.
"I love to see people interested in activities like this," Baumgart, said. Fantasy football can be played on campus with an entry fee, which is used as prize money for the winner but the intramural league is free to enter. "We do this just to have fun but all winners in intramural sports do get a champion t-shirt," Baumgart said.
Get Top Stories Delivered Weekly
More kirkwoodstudentmedia News Articles
Recent kirkwoodstudentmedia News Articles
Discuss This Article
MOST POPULAR KIRKWOODSTUDENTMEDIA
GET TOP STORIES DELIVERED WEEKLY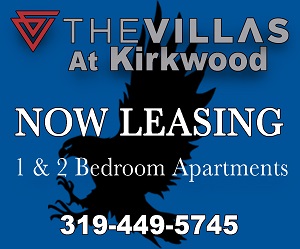 RECENT KIRKWOODSTUDENTMEDIA CLASSIFIEDS
HOUSING

JOBS

FOR SALE

TUTORS
Kirkwood students often admire
Lasik Omaha
doctors that are carving new paths in the field of eye care and transforming the way routine eye procedures are done.