Post Classifieds
Scare tactics
Circle Of Ash haunted attractions - a scream for cast members
By Alisha Wright
On October 26, 2012
Michelle Holaday, a Kirkwood student, finishes getting her makeup done while getting ready to clown around at Circle of Ash. Holaday, a nursing emphasis, is among those giving hair-raising performances at several different attractions affiliated with Circle Of Ash. Photo By Alisha Wright
A concerto of cries, a symphony of screams - these are the sounds that accompany October as people across the country flock to haunted houses, looking for a scare. But what is it like on the other side, to be the one doing the scaring, instead of being scared?
This year several students from Kirkwood Community College took the time to volunteer at a local haunted house, Circle of Ash, located at 412 Seventh Ave. SE.
Matthew Rairden, a Kirkwood graduate and one of the main members of the cast and crew, is the man to talk to for the inside scoop on Circle of Ash. Previously Frightmare Forest, Circle of Ash underwent a name change when it moved indoors. It is now located inside a 13,000 square foot warehouse, which had previously been flooded. The building is a good place for a haunted attraction because, as Rairden, 25, puts it, "It's completely environment controlled", meaning that even during the day it can be completely dark inside.
The maze that customers go through is 902 lineal feet with surprises and terrors around every corner.
When asked about her favorite part of doing this, Michelle Holaday, nursing emphasis, replied, "Scaring the heck out of people and doing off-season detail work." Holaday, 19, got into 'haunting' through the on-site resident manager at her apartment complex, who works at Circle of Ash. Holaday said her favorite types of customers are "female groups because they bunch together and you can terrify them."
Besides the cast room, where Circle of Ash members can be seen lounging in chairs and eating whatever food appears that night, the makeup/costume room is where the spooking begins. Artists get started making people look horrifying hours before the haunting even begins and the results are frightful: Clowns with white faces, bright red lips and colorful shapes around their eyes, green fairies with bloody wounds where their wings should be, women with fake gashes, covered in blood and with their hair sticking up in every direction. There are also doctors with bloody scrubs and patients with blood-soaked gowns and gruesome wounds.
Circle of Ash has three different shows this year. The Haunt, is the typical haunted house. Halloween Homicide is a murder mystery in which customers get to walk around inside the entire building and try to find out who committed a murder. The Lockdown is a show for which participants must be 18 or older and sign a waiver to go through in solitude. For those wondering if Circle of Ash is the haunted attraction for them, they should consider Rairden's thoughts on why customers should come: "We try to put you inside a scary movie."
Get Top Stories Delivered Weekly
More kirkwoodstudentmedia News Articles
Recent kirkwoodstudentmedia News Articles
Discuss This Article
MOST POPULAR KIRKWOODSTUDENTMEDIA
GET TOP STORIES DELIVERED WEEKLY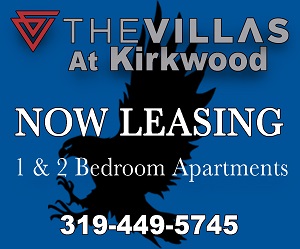 RECENT KIRKWOODSTUDENTMEDIA CLASSIFIEDS
HOUSING

JOBS

FOR SALE

TUTORS
Kirkwood students often admire
Lasik Omaha
doctors that are carving new paths in the field of eye care and transforming the way routine eye procedures are done.