Post Classifieds
Halloween prompts student decor displays
By Natalie Kanakares
On October 26, 2012
Kirkwood students Summer Carber, Katie Krutsinger and Leah Schroeder celebrates Halloween by decorating their apartment with bats, cobwebs and caution tape. Photo By Leah Coffman
It's that time of year again. The leaves are falling, the air is getting colder and in just a couple of days it will be Halloween.
All around the Kirkwood Community College campus and in the apartments nearby, students are getting ready for this exciting holiday. There are ghosts in windows, scary witches on doorways and even decorative black and orange lights on porches.
Halloween tends to bring out the spooky side in people and is a favorite holiday of many. Summer Carber, dental assistant emphasis, Katie Krutsinger, Liberal Arts emphasis and Leah Schroeder, dental assistant emphasis, are roommates who live at Kirkwood Village East right next to campus.
When walking into the apartment, their Halloween spirit is immediately apparent. There are black bats all over the walls, spider webs hanging on lamps and three different kinds of Halloween lights hanging from their porch. They have spooky purple lights as well as spider and web lights that wrap around the porch railing.
Krutsinger and Schroeder said they love Halloween and did most the decorating themselves. Schroeder said that they chose to decorate for Halloween because "there was too much white in our apartment, and since we love Halloween we decided to decorate the place to take away some of the white."
Krutsinger and Schroeder both said their favorite season is fall because they love the overall feeling of the leaves falling, the cool air and the spookiness of Halloween.
After being asked if this was the only holiday they were planning on decorating for, Carber responded, "Just wait for Christmas, I'm sure we will have many more decorations for that."
Get Top Stories Delivered Weekly
More kirkwoodstudentmedia News Articles
Recent kirkwoodstudentmedia News Articles
Discuss This Article
MOST POPULAR KIRKWOODSTUDENTMEDIA
GET TOP STORIES DELIVERED WEEKLY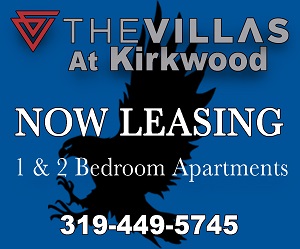 RECENT KIRKWOODSTUDENTMEDIA CLASSIFIEDS
HOUSING

JOBS

FOR SALE

TUTORS
Kirkwood students often admire
Lasik Omaha
doctors that are carving new paths in the field of eye care and transforming the way routine eye procedures are done.