Post Classifieds
Café Mini puts Linn Hall students' stomachs at ease
Staff Editorial
On October 30, 2013
After much anticipation, dust and noise, Café Mini has risen from the old commons to become the centerpiece of the Linn Hall lobby.
Café Mini is an extension of the on-campus cafeteria 'The Café, located in Iowa Hall. This new edition does not feature a full kitchen, which means no pizza or fries, but that isn't necessarily a bad thing.
In place of these student standbys, other quick, convenient and healthy options such as soups, salads and sandwiches are being offered.
In most cases, healthy options are often thought of as time consuming and expensive. Students are in luck because neither is the case at Café Mini. By having these healthier options as easily obtainable as conventional fast food, students are more likely to eat their greens and skip getting a bag of chips from the vending machine. Budget conscious students that go for dollar menu meals will also find that the Café Mini has something in all price ranges.
Soups, salads, and sandwiches may be met by some with crucifixes and cries for greasy food but the truth is that they should instead be embraced with open mouths. The love affair that Americans have with fast food is leading to health issues across the nation. By making the option of eating healthy an easier choice, Café Mini is helping to provide a great first step for students toward becoming healthier individuals.
Café Mini will also help to promote student success by providing coffee that has inspired creativity and fueled study sessions across Kirkwood's campus. This will help to energize students with early morning classes in Linn Hall and instructors who have to teach for long hours.
The new commons have also become a productive hot spot for staff and students in the past few weeks since the addition of chairs and tables. By having the Café Mini a muffin's throw away, this will make studying more efficient for students who are utilizing this space.
If students are in need of a bite to eat or some brain stimulating coffee during a study session or in between classes, a trek across campus is no longer necessary to satiate those desires. This means that students with back-to-back classes in Linn Hall will no longer have to live with vending machine meals or empty stomachs because The Café is too far away.
The addition of Café Mini to Linn Hall helps to address many issues that students and staff have faced in previous years at Kirkwood. This makes the Café Mini a winner in the eyes of all who will utilize this convenient and healthy new option.
Get Top Stories Delivered Weekly
More kirkwoodstudentmedia News Articles
Recent kirkwoodstudentmedia News Articles
Discuss This Article
MOST POPULAR KIRKWOODSTUDENTMEDIA
GET TOP STORIES DELIVERED WEEKLY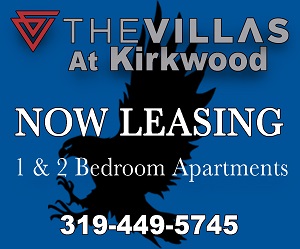 RECENT KIRKWOODSTUDENTMEDIA CLASSIFIEDS
HOUSING

JOBS

FOR SALE

TUTORS
Kirkwood students often admire
Lasik Omaha
doctors that are carving new paths in the field of eye care and transforming the way routine eye procedures are done.