Post Classifieds
Rent bikes to benefit campus, community
Letter to the editor
By Alicia Hernandez
On October 30, 2013
When moving to Kirkwood Community College I did not drive or have a car. I did however move into the apartments on campus which are walking distance from the school. I began wondering what would be a more efficient way to get to class. However, I did not have a bike. I believe that Kirkwood should offer bike renting kiosks for students and even teachers.
B-cycle is a bike rental system that recently came to downtown Des Moines. On the B-cycle website they explain how their kiosks work. All the kiosks use credit cards to avoid theft and if you don't return the bike within three days it's considered stolen.
With your credit card you can also purchase a membership. A one year membership is $40. B-cycle also offers a discount for students renting bikes.
According to the B-cycle website B-cycle puts bike rental kiosks in your city if enough people request that they be put there.
I think that if all the students and teachers voted for this there would be uses for them besides just biking to classes.
Students and teachers could use the bikes to ride to the rec center. During breaks students and teachers could ride downtown for lunch. Teachers and students could leave their cars parked at Kirkwood instead of downtown.
Renting bikes will promote a healthier lifestyle, an environmentally friendly mode of transportation and it could promote biking and traffic safety.
With more people riding bikes to and from class or downtown, it gives them more chances to be physically active. Sure, one could walk to class but that would just take longer. With bikes, the trip to class will be a little shorter than walking.
Biking is also an environmentally friendly mode of transportation and could help lower Iowa's carbon footprint. According to scorecard.goodguide.com Linn County is ranked in the 80-90 percent for carbon monoxide emissions. Linn County has the second highest emissions in Iowa, emitting 59,760 tons of carbon monoxide per year.
With more students seeing their peers riding bikes they might be encouraged to ride bikes, making drivers more aware of cyclist while driving. Increased awareness of cyclists may make drivers more cautious when driving. Fewer cars on the road is also important because people will not have to worry about as many cars to look out for.
Renting bikes is an obvious choice since there are so many benefits: Increase in physical activity, and awareness of environmental and biking safety. Kirkwood would not have to pay for the bikes to be put on campus and they would not have to worry about students stealing them with the use of credit card based systems.
Get Top Stories Delivered Weekly
More kirkwoodstudentmedia News Articles
Recent kirkwoodstudentmedia News Articles
Discuss This Article
MOST POPULAR KIRKWOODSTUDENTMEDIA
GET TOP STORIES DELIVERED WEEKLY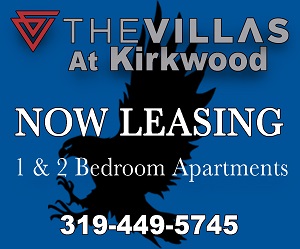 RECENT KIRKWOODSTUDENTMEDIA CLASSIFIEDS
HOUSING

JOBS

FOR SALE

TUTORS
Kirkwood students often admire
Lasik Omaha
doctors that are carving new paths in the field of eye care and transforming the way routine eye procedures are done.