Post Classifieds
'I am Malala' shows astonising vision
By Leah Coffman
On October 30, 2013
When Malala Yousafzai was shot by the Taliban in 2012 it was a flagrant and ultimately failed attempt to silence her powerful voice.
While a teenager, Malala has become the face of the fight for women's education in Pakistan and around the globe. Her bestselling memoir "I Am Malala" is an astounding glimpse into her life. The book is terrifying, inspiring and strangely banal. Malala describes both relatively normal experiences alongside her passionate crusade for education in the face of violent extremism.
In a society where women are routinely treated as second class citizens, Malala was encouraged and supported by her family, particularly her father, who is a passionate activist for education. He encouraged her to do well in school and treated her with the same respect given to her brothers. This instilled a powerful love of education and a willingness to speak out in the young girl.
When the Taliban swept into Swat Valley, Malala described their arrival as being "like the vampires from the Twilight series." They were strange and dangerous and their process of terror and control focused on the systematic denial of rights and education to women. First they separated the boys and girls before eventually forbidding girls from attending school at all.
Always a studious girl, Malala recognized the importance of her education and began writing an anonymous diary for the BBC during the Taliban occupation of Swat Valley in early 2009. After the Taliban left the area, Malala's father revealed her as the author of the diary and she immediately rose to prominence. As a result, Pakistan renamed its National Peace Prize the Malala Peace Prize. At that point, the threats to her life and well-being became personal.
Malala remained focused on her cause in spite of the threats, stating, "I think of it often and imagine the scene clearly. Even if they come to kill me I will tell them that what they are trying to do is wrong, that education is our basic right."
The memoir is book ended by the shooting on Oct. 9, 2012, barely a year ago. Her steadfast courage in the face of death and determination in her cause is astonishing to read, particularly when considering that Malala was 12 when she first starting writing for the BBC and campaigning for women's education. Malala herself wrote, "In my heart was the belief that God would protect me. If I am speaking for my rights, for the rights of girls, I am not doing anything wrong. It's my duty to do so."
Malala's perceived duty should be the duty of all. According to the United Nations Educational, Scientific and Cultural Organization more than 67 million children were out of school in 2009. Of those 67 million, 53 percent were girls. It is easy in the comfort of a society that embraces education and women's rights to forget that there are millions of children worldwide deprived of the basic right to learn.
Malala's example may seem nearly impossible to follow. However, by spreading awareness and supporting schools in the developing world through organizations such as the Malala Fund or UNESCO, Malala's global fellow students can fight for the millions of deprived children and change the face of tomorrow.
Get Top Stories Delivered Weekly
More kirkwoodstudentmedia News Articles
Recent kirkwoodstudentmedia News Articles
Discuss This Article
MOST POPULAR KIRKWOODSTUDENTMEDIA
GET TOP STORIES DELIVERED WEEKLY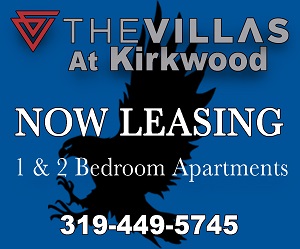 RECENT KIRKWOODSTUDENTMEDIA CLASSIFIEDS
HOUSING

JOBS

FOR SALE

TUTORS
Kirkwood students often admire
Lasik Omaha
doctors that are carving new paths in the field of eye care and transforming the way routine eye procedures are done.