Post Classifieds
Gynecological Cancer Awareness Month
By Alisha Wright
On September 27, 2013
This month is gynecological cancer awareness month and as awkward as it may be to discuss, it is a topic that needs to be addressed.
Gynecological cancer is a general term which encompasses several types of the disease, including cervical, ovarian and uterine/endometrial cancer, according to facingcancertogether.witf.org.
After several months of abdominal pain doctors preformed tests on my mother and determined that she had a mass on her uterus. Surgery to remove the tumor was scheduled for May 20, 2013.
On the day of surgery the doctors discovered that the mass was cancerous. The news was shocking as doctors had said there was a 99 percent chance the tumor would be benign, due to its location.
I was not prepared for what I faced after my mother was released from the hospital. The amount of medications she took each day was staggering. In addition to that, the medications had to be taken at specific times during the day, some more than once. My father also had to learn how to dress the surgical wound from the surgery, which had to be done twice daily.
My mother eventually started radiation treatments. Her energy was zapped. Even talking on the phone for more than 15 minutes wore her out. She began to drop weight dramatically but kept retaining water. To make matters worse her appetite was practically nonexistent.
After radiation finished and my mother had time to recover, a CT scan was conducted to determine the effect it had on the tumor.
The results showed the tumor had shrunk but also showed cancerous spots on her lungs and a blood clot in a vein leading directly to her heart.
During another appointment my parents were informed that because the tumor had spread it was now considered stage four cancer.
The doctors told them chemotherapy would not do anything for her lungs but it could extend her life by several years. After getting this news, my mother called my brothers and me together so she could give us the news in person.
Getting that news has been by far the worst experience of my life. I never imagined her condition was so serious.
Facing this has made me realize the people we love won't be around forever and we need to cherish them while we can.
Women should talk to their doctors and get tested regularly. Early detection and awareness are the keys when it comes to fighting cancer. The earlier cancer is detected the sooner treatment can begin.
Cancer has four stages and the earlier it is discovered the better the chance of survival.
If caught early enough all that may be required for treatment would be surgery to remove the tumor, depending on its size, the type of tumor and its location.
Get Top Stories Delivered Weekly
More kirkwoodstudentmedia News Articles
Recent kirkwoodstudentmedia News Articles
Discuss This Article
MOST POPULAR KIRKWOODSTUDENTMEDIA
GET TOP STORIES DELIVERED WEEKLY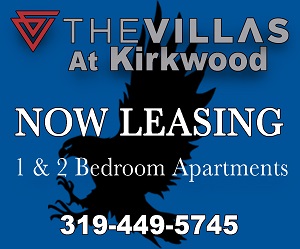 RECENT KIRKWOODSTUDENTMEDIA CLASSIFIEDS
HOUSING

JOBS

FOR SALE

TUTORS
Kirkwood students often admire
Lasik Omaha
doctors that are carving new paths in the field of eye care and transforming the way routine eye procedures are done.