Post Classifieds
Oregon officials pay education forward
By Ellen McCauley
On September 27, 2013
As pressures to attend college rise with the cost of education, some states are working to make post secondary education more affordable.
Oregon's state legislature has been planning an almost tuition-free college plan. "Pay it Forward, Pay it Back" is their plan, which encourages a new option to pay for post secondary education. It would not be tuition free but students would pay nothing until they graduate. After students begin working, they would pay back to the college based on their income.
On July 1 the legislature began working on plans for a pilot program to test the new option. According to Statesman Journal, the pilot program would be used to decide the types of students who will participate and the amount students will pay after graduation.
Some critics are still unsure about this tuition-pay-back program and question what will happen if graduates don't get the job they planned and studied for.
Although there are some unanswered questions, Oregon's "Pay it Forward, Pay it Back" program is a great way to encourage more people to attend college.
The main reason college, or any post-secondary education, is important is because it allows people the opportunities to improve. By attending a college, university, vocational training school or community college, students learn skills to begin their career, improve their current profession or begin a new occupation. Many people are giving up on their talents and passions because they cannot afford the costs professional training or college.
According to the Consumer Finance Protection Bureau, there is currently $1 trillion in total student loan debt in the U.S. The Federal Reserve Bank of New York reports in 2012 that the average student loan balance for all ages is $24,301. These astronomical price tags may scare people away from college and cause talent to be wasted.
In President Barack Obama's State of the Union address in January 2012, he admitted that, "the most daunting challenge can be the cost of college."
"Higher education can't be a luxury," Obama said in his State of the Union address last year. "It is an economic imperative that every family in America should be able to afford."
The "Pay it Forward, Pay it Back" program may be exactly what Obama needs to secure his hope of every American getting some sort of post secondary education or training.
This program is also a great idea to help pay for college. It may also be a great idea to help train and educate Americans, creating a more stable job market and economy.
Get Top Stories Delivered Weekly
More kirkwoodstudentmedia News Articles
Recent kirkwoodstudentmedia News Articles
Discuss This Article
MOST POPULAR KIRKWOODSTUDENTMEDIA
GET TOP STORIES DELIVERED WEEKLY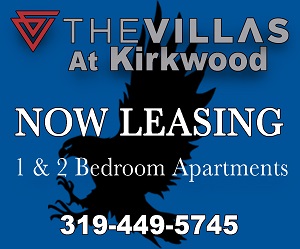 RECENT KIRKWOODSTUDENTMEDIA CLASSIFIEDS
HOUSING

JOBS

FOR SALE

TUTORS
COLLEGE PRESS RELEASES
Kirkwood students often admire
Lasik Omaha
doctors that are carving new paths in the field of eye care and transforming the way routine eye procedures are done.