Post Classifieds
Expand world view with banned books
Staff Editorial
On September 27, 2013
Racism, drug use, sexual themes, violence, religious content and homosexuality are various themes that can cause books to be banned. Authors argue that these themes are included to make their point or to keep their books raw and honest for society.
Parents challenge books because they believe the content may be harmful to their children. In some cases it's a good idea. Most parents would not like their young children to read books such as '50 Shades of Grey.' However, some parents challenge books before understanding the meaning of the questionable themes.
Mark Twain's 'The Adventures of Huckleberry Finn' is a classic, which was banned for its use of the 'n word' and its perceived racist content. The misunderstanding here is the book is not supporting racism, or even racist itself, but rather the classic novel reflects on a time when the word usage was common.
Twain also throws a satiric twist on the racist content of the book. He uses satire to argue his point that slavery and the pre civil war period were absurd.
Unfortunately due to this literary classic being banned, some students will never have a critical example to put slavery and plantation society into perspective.
Without the ability to read books an important part of society is lost. Books teach people about a different time, which may include racism. Books teach people about different groups in society, which may include violence. Books teach people about secret and taboo subjects that parents may refuse to talk about with their children, which may include sexual themes, drug use, different religions and homosexuality.
When parents refuse to talk to their children about the things they can learn in books, the children are being sheltered, which may harm them.
If the books are unavailable, children will have no alternative sources to learn about the world. Parents may provide one side of an argument, while books may provide another.
In some cases, parents find something harmful, when in actuality it brings light to a child's understanding of various aspects of society.
By reading, individuals can form their perspectives, beliefs and understandings of the world in an unbiased form. Therefore, banning books in an arbitrary manner may harm children and society more than help.
Get Top Stories Delivered Weekly
More kirkwoodstudentmedia News Articles
Recent kirkwoodstudentmedia News Articles
Discuss This Article
MOST POPULAR KIRKWOODSTUDENTMEDIA
GET TOP STORIES DELIVERED WEEKLY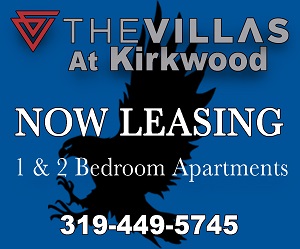 RECENT KIRKWOODSTUDENTMEDIA CLASSIFIEDS
HOUSING

JOBS

FOR SALE

TUTORS
Kirkwood students often admire
Lasik Omaha
doctors that are carving new paths in the field of eye care and transforming the way routine eye procedures are done.