Post Classifieds
2DS: Revolutionary or unnessary?
Nintendo offers holiday alternative to Xbox, PS4
By Ellen McCauley
On September 16, 2013
With the holiday season drawing near, two new systems are central in the minds of gamers - the Xbox One and PlayStation 4.
With Microsoft and Sony's big plans for the holidays, Nintendo has tried to step up to the plate with its announcement of the Nintendo 2DS.
The Nintendo 2DS is a variation on the 3DS system. As the name suggests, the Nintendo 2DS will play original DS and 3DS games but without the 3D function.
Some consumers may ask why one would want a 3DS without the 3D? Or even, why not just turn the 3D function off?
The 3DS has an easily adjustable slider without a lock. For parents of younger children or children with disabilities, the 3D function can actually be more harmful than entertaining to their children.
Children are the main audience of the system. Younger children, or children with disabilities, may find it hard or even uncomfortable to play with the 3Ds, which can easily be turned on accidentally.
The release date for the 2DS system is Oct. 12, the same day as the two latest Pokémon games, another prime example of the system's target audience.
With a lower price tag of $130, compared to the starting prices of the Xbox One priced at $500 and the PlayStation 4 at $400, Nintendo might be able to pull a few targeted consumers to their side for the holidays.
In addition, Nintendo has dropped $50 from the WiiU, originally introduced last November.
Although Nintendo seems to be hopeful about their plans for these holiday specials, there is one major downside. Consumers have had a poor initial reaction to the 2DS system due to its extremely unusual design.
The Nintendo 2DS design can best be described as a dual screen tablet. The 2DS no longer folds to store in a pocket but is a flat, square shape that still incorporates the previous 3DS screen ratio.
Although its shape is a bit awkward, children who begin their gaming experience on tablets may find this design comfortable.
With a focus on entry-level gamers and critics of the 3DS, the 2DS may have some hope for the holiday season.
Get Top Stories Delivered Weekly
More kirkwoodstudentmedia News Articles
Recent kirkwoodstudentmedia News Articles
Discuss This Article
MOST POPULAR KIRKWOODSTUDENTMEDIA
GET TOP STORIES DELIVERED WEEKLY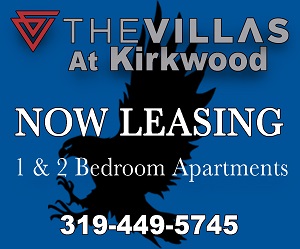 RECENT KIRKWOODSTUDENTMEDIA CLASSIFIEDS
HOUSING

JOBS

FOR SALE

TUTORS
Kirkwood students often admire
Lasik Omaha
doctors that are carving new paths in the field of eye care and transforming the way routine eye procedures are done.