Post Classifieds
Decision 2012
Choosing for the future
By Dallas Wilcox
On September 27, 2012
When Barack Obama was sworn into office as the nation's commander-in-chief in 2009, there was an awakening. Americans felt a revitalized source of hope. Was it that Obama could really turn this country around or was everyone just relieved that Bush was finally booted?
But enough about the past, what's in store for our future? It's that time again, and by that I mean a bombarding amount of political ads, news stories and arguments of who is best. You may fast forward through the TV ads by way of the beloved DVR but you can't escape the debate. So who is the best candidate to lead the United States of America for the next four years - Obama or Romney?
I spoke with supporters of both Obama and Romney and found myself pondering the opinions of each. Kirkwood Community College instructor Nancy Sauerman is an Obama supporter and advisor for The Young Democrats of America club.
Sauerman expressed that it is imperative we re-elect Obama for several reasons. Obama pushed for the Lilly Ledbetter Fair Pay Act giving women in the workplace the fairness they deserve on their paycheck. Right now women earn approximately 80 cents for every dollar men earn. How disgusting! I certainly agree with the Democrats on this one. After all, isn't our nation, in part, about equality?
Obama was also the first president to openly support same-sex marriage. Nancy Sauerman said this shows leadership from the President. Again, there is a push for equality here.
A'hem. Let me clear my throat for this one. Calling all students! President Obama signed a new law that would revise student loans. This law would enforce that borrowers not pay more than 10 percent of their income and any unpaid student loan debt after 20 years would be forgiven.
But I think we're leaving out one very important factor. America's total national debt is at an unreal $16 trillion, give or take. If we don't stop this downhill roller coaster the debt may never be repaid. Every dollar we spend or don't spend is important and this includes government spending.
Kirkwood instructor and General Manager of The Hotel at Kirkwood Center Lee Belfield said he believes the national debt should be the presidential candidates' main priority.
Belfield, a Republican supporter, makes a great point and one that Mitt Romney addresses - our generation and our future children are responsible for paying this massive chunk of change. Belfield said Romney has a realistic solution because let's face it - lowering taxes alone just isn't going to cut it. The answer - shrink the government.
As for financial aid, Belfield said he believes that the government has enabled institutions of higher education to hike up tuition rates by making it easy to receive student loans and loan extra money aside from tuition for living costs, etc. Kirkwood has been an exception by not increasing tuition nearly as much as four-year institutions. The answer to this problem wraps back around to the task of shrinking the government, or at least slowing it down, which is a movement that Romney has added to his tool belt unlike President Obama.
So, Kirkwood students, who will be the best leader for our nation? You can get started by registering to vote. It's our nation, our life, let's create a solid future.
Get Top Stories Delivered Weekly
More kirkwoodstudentmedia News Articles
Recent kirkwoodstudentmedia News Articles
Discuss This Article
MOST POPULAR KIRKWOODSTUDENTMEDIA
GET TOP STORIES DELIVERED WEEKLY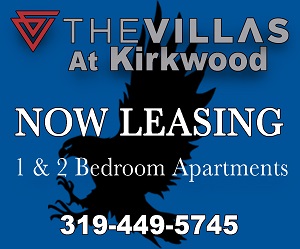 RECENT KIRKWOODSTUDENTMEDIA CLASSIFIEDS
HOUSING

JOBS

FOR SALE

TUTORS
Kirkwood students often admire
Lasik Omaha
doctors that are carving new paths in the field of eye care and transforming the way routine eye procedures are done.