Post Classifieds
Daniel Hayes
Culinary Arts
By Emily Mareson
On March 29, 2013
Alisabeth Von Pressley (center) is cast as Eve and Mother Noah in Children of Eden. (Photo by Mike Weber)
"Having confidence in yourself and believing no matter what that you can do it," is the motto Daniel Hayes said he lives by in his life and academics.
Hayes is in his second year at Kirkwood while working full-time and raising a 10-year old son. He is currently working full time at Buffalo Wild Wings as a manager. Before he started his job at Buffalo Wild Wings he worked at the Cedar Rapids Pizza Company for 12 years as well as Papa Murphy's.
He said his inspiration for going back to school was his son, Bricen. He said, "I want to show my son that when you work hard for something you can achieve your goals."
He said another reason for his pursuit of a culinary arts career was his experience growing up with a mother who rarely cooked. He and his brother cooked dinner for themselves.
Kirkwood has brought many great experiences for himself, he said. He said his favorite part of being a student here is the way the Hospitality Arts program is run and the passionate instructors. "My most memorable time so far was my international cuisine class and learning about different dishes that are common overseas," said Hayes.
Hayes said he is not the typical college student. He said he has experienced the real working world and the task of raising a child. He said that being a non-traditional student has taught him to always do the best he can and go into an unusual surrounding with an open mind. His best advice for non-traditional students would be time management. He said, "When you have a lot on your plate being organized is the best choice."
When Hayes has free time, he said he can be found spending his time with his son. He said that all of his extra time goes to spend time with Bricen. They both enjoy playing pool, darts and watching basketball. Last year they went to see the NCAA tournament for a father/son outing.
Hayes claimed he discovered his love for Cajun cooking while growing up in the South. He said he would love to learn the most he can about this style of cooking within the next ten years and open a restaurant in Iowa so people can enjoy real Cajun cuisine.
Get Top Stories Delivered Weekly
More kirkwoodstudentmedia News Articles
Recent kirkwoodstudentmedia News Articles
Discuss This Article
MOST POPULAR KIRKWOODSTUDENTMEDIA
GET TOP STORIES DELIVERED WEEKLY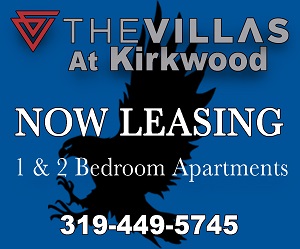 RECENT KIRKWOODSTUDENTMEDIA CLASSIFIEDS
HOUSING

JOBS

FOR SALE

TUTORS
Kirkwood students often admire
Lasik Omaha
doctors that are carving new paths in the field of eye care and transforming the way routine eye procedures are done.