Post Classifieds
Deanna Scott
Graphic Communication Technology
By Dallas Wilcox
On March 29, 2013
Alisabeth Von Pressley (center) is cast as Eve and Mother Noah in Children of Eden. (Photo by Mike Weber)
Outstanding student Deanna Scott wears several different hats in her busy life. She is a Graphic Communications Technology student at Kirkwood Community College, a mother of three and an entrepreneur.
Scott chose Kirkwood because it has the program she was interested in and it was close to home.
Scott said has found many things to enjoy at Kirkwood. "I've enjoyed all of my instructors very much and my overall experience at Kirkwood has been great. My favorite thing about Kirkwood is all of the great people I have met along the way while doing my coursework. This includes instructors and students alike. The friendships are what has benefited me the most and I hope to maintain long-term relationships and continue networking even after I graduate," she explained.
She noted it has been worthwhile to attend college because she's learned so much in her chosen program.
Before attending Kirkwood, Scott said was a stay-at-home mom and wife often dabbling in graphic design. At 43 years old, Scott said she wanted to focus on raising her children before she pursued her dream of graphic design.
Scott is currently a volunteer in the Linn-Mar school district. She recently put together a program for the Supernova event held by the school's music department's largest fundraiser.
Scott also works part-time as an independent support broker through the Consumer Choices Option, which is a Medicaid program that is a cash and carry model for disabled and elderly Iowans.
She also used to be on the Autism Society of Iowa Board of Directors as the newsletter editor.
Scott is a member of Kirkwood's Phi Theta Kappa International Honor Society. She is also a participant in the Kirkwood Honors Project program.
She said one of her most memorable moments at Kirkwood was when the American Legion chose her poster advertisement to promote its Wild Game and Feed Potluck.
None of these achievements have been easy, said Scott.
She said one of her biggest challenges has been raising a son with autism. Her husband was also laid off from his job causing a financial hardship for her family. In addition, she's had to take care of her mother after she suffered from a stroke.
Scott's hard work and dedication has paid off. As a result of maintaining a 4.0 GPA, she's received The Gazette, Project Start/Finish and Terry Moran Honors scholarships.
She said, "It was a challenge at my age to return to school. I really had to step outside my comfort zone and overcome a lot of fears to take that first step. I'm so glad I did and am very happy with my success at Kirkwood."
Get Top Stories Delivered Weekly
More kirkwoodstudentmedia News Articles
Recent kirkwoodstudentmedia News Articles
Discuss This Article
MOST POPULAR KIRKWOODSTUDENTMEDIA
GET TOP STORIES DELIVERED WEEKLY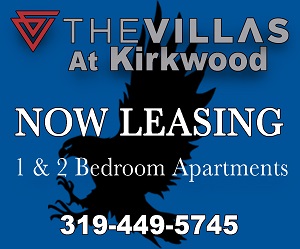 RECENT KIRKWOODSTUDENTMEDIA CLASSIFIEDS
HOUSING

JOBS

FOR SALE

TUTORS
Kirkwood students often admire
Lasik Omaha
doctors that are carving new paths in the field of eye care and transforming the way routine eye procedures are done.