Post Classifieds
Carrie Voelker
Floral Careers
By Leah Coffman
On March 29, 2013
Alisabeth Von Pressley (center) is cast as Eve and Mother Noah in Children of Eden. (Photo by Mike Weber)
In blending agriculture and creativity, Carrie Voelker has found a way to combine her interests through Floral Careers to become an outstanding student. "I just wanted to incorporate my interests," she remarked. "It combines crafting and agriculture. I like those two things."
Voelker's interest in blending her passions led her to choose Floral Careers over Dairy Science at Kirkwood, which was close to home as well as timely. The floral careers track is a year-long program which will allow her to enter the workforce or return to her family's dairy farm with fresh experiences.
Voelker said she has had a lifelong interest in agriculture through her experience growing up on the farm. "I was also in 4-H. I took a lot of projects to the state fair," she said. She has also taken cattle to the Delaware County Fair, winning the Dairy Supreme Grand Champion and Reserve Junior Holstein Champion.
At Kirkwood Voelker has become involved in the Forget-Me-Nots Club, taking industry-related trips and doing projects. "We decorate for banquets at The Hotel. I'm the secretary for the club."
By becoming involved in her field through an internship at Culver's Greenhouse and being a work study assistant, Voelker has also gained experiences and developed professional relationships in and out of the classroom.
She said the work study has been particularly valuable. "It's taught me a lot about the floral industry and I like working with Sarah, the other floral assistant. I also like working with my teacher," Voelker remarked.
Voelker said her positive experience at Kirkwood has been influenced by the small class sizes. She said, "I really got to know the other students and the teachers in my classes."
In her free time, Voelker said she enjoys craft projects, such as sewing and stamping, as well as staying involved with her family's farm. "I like helping on the farm on the weekends," she explained.
She said her willingness to try new things and juggle her interests led to some challenges. "During my first internship, I had never worked in a flower shop before, so I didn't know how things worked. It was good experience because I learned a lot," she explained.
She said her combination of interests has led her to a flexible point for her future, allowing her options to work in a flower shop or greenhouse while working on the farm even if she chooses not to open her own business.
Voelker also praised the sense of responsibility that she gained through taking classes. "It's kind of like having a job at school," she said. "Classes teach you to be on time and responsible. And I like learning new things."
Get Top Stories Delivered Weekly
More kirkwoodstudentmedia News Articles
Recent kirkwoodstudentmedia News Articles
Discuss This Article
MOST POPULAR KIRKWOODSTUDENTMEDIA
GET TOP STORIES DELIVERED WEEKLY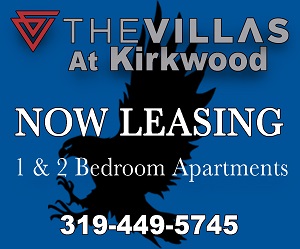 RECENT KIRKWOODSTUDENTMEDIA CLASSIFIEDS
HOUSING

JOBS

FOR SALE

TUTORS
Kirkwood students often admire
Lasik Omaha
doctors that are carving new paths in the field of eye care and transforming the way routine eye procedures are done.