Post Classifieds
Danielle Kane
Communications Media/Pubic Relations
By Natalie Kanakares
On March 29, 2013
Alisabeth Von Pressley (center) is cast as Eve and Mother Noah in Children of Eden. (Photo by Mike Weber)
Outstanding student Danielle Kane, a Communications Media/ Public Relations emphasis at Kirkwood Community College, said is happy she chose to get her education close to home.
"I originally came to Kirkwood because it is local and affordable. I absolutely love the professors here because it feels like an advantage over the local universities," she said. "You have the opportunity to have a one-on-one relationship with them, which allows them to help you succeed."
Kane has used this close relationship with her professors to help her succeed academically. After Kirkwood, Kane plans on attending Mt. Mercy University and her goal is to finish her education at the University of Iowa.
"I consider my biggest talent to be what I do now with my job as an event coordinator. I've always done it and I had volunteered for 10 years at a non-profit ministry organization planning their events and it's always been something I enjoy doing. It's great that I use my talent as a career because it makes me enjoy what I do even more."
Kane took a career assessment evaluation at Kirkwood and, to her surprise, the job description for public relations was exactly what she loved doing and what she had been doing for years.
Kane's life is very busy between balancing school, raising her four daughters and working as a public relations event coordinator. She's also a member of Phi Theta Kappa, the Philosophy forum at Kirkwood. She also studied abroad in Rome during her freshman year.
"While enrolled at Kirkwood I have faced many obstacles that have made my academic experience challenging. My husband is former military, so we have faced huge career changes and I have had to help him with post-traumatic stress. One semester I also had to face my own grief from the loss of my grandfather," she stated.
Kane said going to college and raising a family at the same time can be challenging. "One of my daughters shattered her knee and was in and out of rehab as well as multiple doctor appointments, which added to our money situation. There was also a time where my daughters and my husband were ill with the flu. He had a temperature of 104. They were sick for weeks at a time and I had to take care of them."
Adding to this, Kane has also dealt with people she knows challenging her role as a mother.
"People have told me that I'm not making a good choice as a mother going back to school and that I should put my children first. I feel that I'm actually empowering my girls for the future by showing them women can be successful and join the workforce as well as men."
Get Top Stories Delivered Weekly
More kirkwoodstudentmedia News Articles
Recent kirkwoodstudentmedia News Articles
Discuss This Article
MOST POPULAR KIRKWOODSTUDENTMEDIA
GET TOP STORIES DELIVERED WEEKLY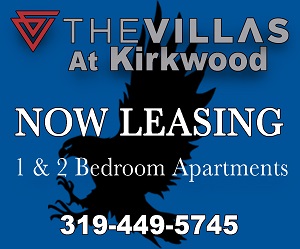 RECENT KIRKWOODSTUDENTMEDIA CLASSIFIEDS
HOUSING

JOBS

FOR SALE

TUTORS
COLLEGE PRESS RELEASES
Kirkwood students often admire
Lasik Omaha
doctors that are carving new paths in the field of eye care and transforming the way routine eye procedures are done.